Chancellor Gates discusses foreign affairs and political climate
William & Mary Chancellor Robert M. Gates '65, L.H.D. '98, the nation's Secretary of Defense from 2006 to 2011, portrayed the relationship between the United States and Russia as in "a dangerous downward spiral that could lead to military conflict."
Gates made the comment during a question-and-answer event before a packed house at W&M's Phi Beta Kappa Hall on Feb. 9. W&M President Taylor Reveley moderated, and members of the audience also provided questions in a candid, 90-minute session.
U.S. and Russia relations

Gates said that Russian President Vladimir Putin has two fundamental strategies: First, reassert Russia's role as a great power that has to be reckoned with on every international problem, and pointed to Syria as an example. The second strategy, Gates said, is as old as the Russian empire, [which is] creating a buffer of either frozen conflicts or friendly states on the periphery of Russia.
"That's what Georgia, Ukraine and the Baltic States are all about," he said.
"This guy is not crazy, not delusional. He is a bully. He is a thug. He is a killer, but he's not delusional," Gates continued. "Like a bully, the only way to stop him is to make clear that there are costs involved in his activities. When those Russian planes came within 30 feet of an American warship I would have recommended that the president send a message to Putin saying, 'The next time you come that close, we will shoot you down. Period.' The only thing that will stop Putin is a show of force."
Following the election in November, Gates suggested to U.S. President Donald Trump that he nominate long-time friend and colleague Rex Tillerson as secretary of state. He also introduced Tillerson before the Senate, saying "all that will matter [to him] is what will advance the interests of the United States."
However, Gates warned that the biggest challenge for the current administration is to "thread the needle."
"How on the one hand do you stop Putin's interventionism, aggression, meddling thuggery and at the same time stop what I believe is a dangerous downward spiral in this relationship that could lead to a military conflict?" Gates asked. "We'll see how they're able to handle it."
Asked about the relationship between Trump and Putin, Gates confessed bewilderment.
"I absolutely do not understand his, I don't know the right word, I don't think it's admiration for Putin," Gates said, drawing gales of laughter. "I'm not sure what it is about him. Maybe behind all of this there is a strategic mind at work that says, 'We improve our relationship with Russia, it puts the Chinese on notice that we have a better relationship with Russia, it puts others in the world on notice that we have a better relationship with Russia.'"
The February election

In regard to the recent U.S. electoral season, Gates said tepid participation on both sides resulted in the final candidates. There's a lesson there, he added.
"One of the reasons our politics have been so polarized is that moderates — left or right — only show up in November," Gates said. "They don't show up in their party caucuses in February.
"The lesson of the last year in both parties is that the way the system works and the way people vote, the folks who are center-left, center-right stay home in spring and then express dismay in November."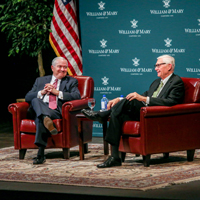 Reveley asked if that would change.
"No," Gates replied, an impish smile on his face.
Because of decades of gerrymandering, Gates explained, only 40 to 50 seats in the House of Representatives — out of 435 — are actually competitive.
"So the real election is not in November, but in February or March," he said. "The problem of the moderates is that it's really hard to set our hair on fire. We're all kind of balanced and weighing things, but the truth is none of us show up in February or March. And that's why we end up with the choices we have in November."
And don't expect a fix for gerrymandering, at least not soon. Gates said the process now in place took decades; changing it "to where we should be" will take an equal amount of time.
However, Gates lauded California and the state of Washington for introducing "open" primaries, which force candidates to reach beyond their party supporters and interact with citizens on both sides of the political spectrum. In the fourth district of Washington last year, two Republicans wound up running against each other, Gates said. In California, two Democrats ran against each other.
"This open primary basically says, 'You've got to figure out how you're going to win the most votes in this district, regardless,'" Gates said. "That's one hopeful sign."
The career politician

As prescient as they were in setting up the nation's representation process, the Founding Fathers overlooked a development that Gates labeled "one of the biggest problems we face."
That problem, Gates said, is the career politician.
Gates explained that the Founding Fathers expected men like W&M alumni Thomas Jefferson and James Monroe would serve in government after fashioning successful business careers and "then return home."
That's not how politics work today, he added.
"I have seen this through my whole career, people who have spent their whole lives in politics," he said. "Their whole being is wrapped up in being a member of Congress. It's the deference, the staff, all of the accouterments. And they can't imagine life without being in Congress. They will do anything to get re-elected to Congress. What is in the best interest of the country becomes secondary to getting re-elected. It doesn't matter whether you're a Republican or Democrat; it's a bi-partisan problem, Gates said.
"How many people are prepared to put their career on the line in Congress, as a matter of principle and say, 'This is what is in the best long-term interest of the United States of America, and if you want to defeat me, defeat me.' There are very few of those people."