Charles honored as a NAKHE fellow
The National Association for Kinesiology in Higher Education has as its slogan "Where Scholars Come to Lead."
Three years ago, the organization began honoring the best of those scholars – those who have made "significant contributions to the organization and to the field of kinesiology" – by designating them as fellows.
The selection committee picked William & Mary Professor of
Kinesiology and Health Sciences
John Charles to join that body, becoming NAKHE's 19th fellow at the national convention in January.
"Someone whose identity I don't know nominated me," Charles said. "It's a huge honor, to be honest. The 18 that preceded me are in many cases my mentors. They might not know it, but they are people I've admired, even revered, in some cases. To join that group is very special to me."
Since coming to W&M in 1979, Charles has enjoyed a career that's been varied and pioneering.
When the women's physical education and athletics departments were combined, Charles was the first male hired. With the support of recent
Charter Day
honoree Millie West, Charles founded and was the first coach of the women's soccer program, guiding it from club status towards a berth in the NCAA Final 8. Charles concentrated most of his recruiting efforts in Northern Virginia. Among those he brought to campus was Jill Ellis '88, future coach of the 2015 U.S. women's World Cup champion soccer team.
Already armed with a doctoral degree and teaching philosophy at the university, when the athletics and physical education programs split in 1986, Charles chose a tenure-track academic position with physical education, the forerunner to today's kinesiology and health science department.
Since then, Charles has served as a professor and, for six years, chair of the kinesiology department.  He has also taught courses in the
Arts & Sciences
honors program,
American studies
and
environmental science and policy
. In 2003, he began a six-year term as W&M's director of
academic advising
.
"I've had the pleasure of seeing William & Mary from a whole different range of perspectives," he said.
Today, he is back in the classroom, primarily teaching Health Ethics, a course that is not usually found at the undergraduate level, although it is particularly popular with pre-med, public health and environmental health students.
"It's fairly new, but growing rapidly because every medical school I'm aware of has an ethics class," Charles said. "In medicine today, there's much more capability technologically and scientifically. We can do many more things. But increasingly, it's not what can we do, but what should we do?
"Health ethics deals with the quality of life, not just the number of years someone might live. Those issues are very important. Not only that, how does cultural difference make a difference when you're trying to reach ethical decisions?"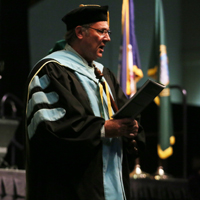 Charles also developed a line of scholarship that combines philosophy with kinesiology and health ethics. It is represented in the three books he has authored. All were cited in NAKHE's announcement of his award.
Charles said that Contemporary Kinesiology: An Introduction to the Study of Human Movement in Higher Education, published in 1994, "envisions a liberal arts approach to the study of health and human movement."
Introduction to Humans Moving: A Guide to Philosophy in Action, published in 2002, focuses on "the mind-body relationship, living the good life and choosing the right path."
Health Ethics, published in 2012, "outlines ways of thinking that would be helpful when making health decisions," he said.
The criteria used to designate fellows include significant contributions to NAKHE, scholarly productivity and leadership in the field of kinesiology and at one's home institution.
In 2012, Charles was NAKHE's "Distinguished Scholar of the Year." He was selected to deliver two distinguished NAKHE lectures: the Delphine Hanna Lecture in 2005 and the Dudley Allen Sargent Lecture four years ago.
On the day of the 2017 ceremony, Charles received an unexpected email from a recent W&M graduate working in the Peace Corps.
"Health Ethics was one of the few classes that really stuck with me after graduation and has helped me greatly in my work now," the author began. "Your class was the first class that empowered me to develop an opinion and speak out ... Your class pushed me. I never thought I would be someone who could confidently lead trainings, give presentations and speak out when I thought something was wrong. Your class was what started that for me. I just wanted to say thank you so much for being such a great professor."
Charles was deeply touched by the message.
"The sentiment expressed in it means more to me than any accolade, honor or fellowship," he said. "There can be northing more rewarding than making a difference in the life of even one student."