William & Mary acquires James Monroe letters
William & Mary Libraries has acquired more than two dozen letters handwritten by James Monroe, the fifth president of the U.S. and an alumnus of the university. The letters, which have never before been published, document communications between Monroe and his Secretary of the Treasury, William Crawford.
"As there are not many existing letters between Monroe and his cabinet members, we expect these letters to provide new insight into Monroe's presidency and lead to new scholarship and discoveries," said Jay Gaidmore, director of the Special Collections Research Center at the university's Swem Library.
A selection of letters will be publicly displayed for the first time in an exhibit held at the Muscarelle Museum, opening to the public on February 11, 2017. The exhibit, "Written in Confidence: The Unpublished Letters of James Monroe," will feature 12 of the newly acquired letters, and will run through May 14.
"We have plenty left to learn about Monroe's presidency, especially the crucial relationships with his cabinet members," said Sara Bon-Harper, executive director of  James Monroe's Highland, the William & Mary-owned historic home in Charlottesville, VA. "Having access to his personal correspondence will undoubtedly contribute to our growing understanding of Monroe and his presidency."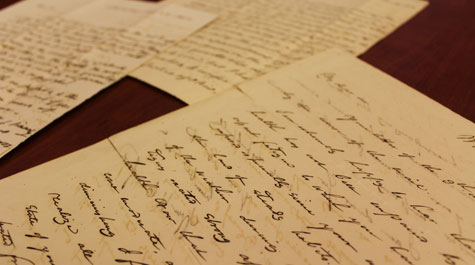 The letters were purchased from the Raab Collection, a historical document and autograph dealer whose specialties include documents signed by U.S. presidents and other historical figures from the 16th through the 21st century. The firm acquired the letters from descendants of William Crawford. Crawford's correspondence, or what remained after a house fire burned many of his letters, were passed down within the family and eventually came into the hands of Crawford's great-great-great-great grandson. According to dealer Nathan Raab, the owner described finding the letters in a box in his mother's house.
"Each time we walk into a stranger's home or to see a collection for the first time, we temper our excitement with the knowledge that we don't really know what they have until we see it with our own eyes, but after seeing the materials, we knew we were in the presence of history," said Raab. "It gives me satisfaction to think that we have found these documents a new home, where they will be publicly studied, enjoyed and preserved."
The purchase of the letters was made possible by a donation from Jody and Wilma Forsyth, parents of Samantha Forsyth '15, who is currently pursuing a law degree at the university.
"We can think of no better place for such letters to reside than at President Monroe's alma mater. We believe it important for historical documents such as these to be placed in public depositories where they can be enjoyed by all who have an interest in our political history," said Jody Forsyth.
The acquisition comes at a time when there is a renewed interest in Monroe, whom some call the forgotten president – overshadowed by the legacies of Thomas Jefferson and George Washington.
"Now, in the 200th anniversary of James Monroe's election, it is an appropriate time to re-examine Monroe's presidency, one that often gets lost among others in a period of great and formative presidents," said Bon-Harper.
This has been a year of new discoveries regarding Monroe. In April, archeological excavations at Highland revealed the foundations of the original Monroe home, built in 1799. The smaller house standing today, long thought to have been the president's home, was built nearly 20 years later, during Monroe's first term in the White House.
"We are currently in the process of deepening our understanding of James Monroe through discoveries at Highland. Our research has identified the archaeological remains of his 1799 main house. This is a major new understanding of Highland, and offers the potential to re-examine Monroe and his legacy," said Bon-Harper.
The letters join the library's James Monroe Family Papers, a collection of over 300 letters and other documents by, to and concerning Monroe and his family. Dating primarily from 1780 to 1831, the collection covers Monroe's service as an officer during the American Revolution, governor of Virginia, minister to France and Great Britain, Secretary of State and War and President, as well as post-presidential years. The collection covers a variety of topics such as family life, business affairs, diplomacy and foreign relations, slavery and politics, and it includes one of the only existing letters written by Monroe's wife.
W&M Libraries and James Monroe's Highland are preparing to digitize the James Monroe Family Papers, making these materials freely accessible online. The papers are expected to be available online by spring 2017.
"Digitizing our original collections – like the James Monroe letters – and making them accessible to scholars worldwide is crucial to advancing scholarship," said Dean of University Libraries Carrie Cooper. "We are especially excited to contribute to our nation's understanding and appreciation of Monroe's presidential legacy."