Newton-Blanchard Prize encourages creative writing across the disciplines
Two William & Mary students were recently recognized as the inaugural recipients of the university's Newton-Blanchard Prize, which encourages creative writing by undergraduates across the disciplines.
Natasha King '16 received the non-fiction prize for her essay "Connection is a Sea Urchin," and Alison Rodriguez '17 received the fiction award for her short story "Girlhood." Each received $2,500.
The prizes were funded through an endowment created by Blake T. Newton III '64 and Belle Blanchard Newton. According to the proposal, the two annual awards "are intended to be made to student writers from across the undergraduate spectrum who have curiosity, imagination, humor and a facility for clearly communicating their thoughts, discoveries and passions."
King, who majored in marketing and environmental science at William & Mary, said that her piece includes several topics but focuses overall on the fear of loss and the price of connection.
"Through the different components – snorkeling, global warming, Siamese fighting fish, religion, coat pockets, the death of my grandparents – I was trying to explore my own personal fear of loss, and how it makes interpersonal connection and attachment difficult, as well as the idea of loss and losing things in general," King said.
Rodriguez's short story also includes themes related to interpersonal connections.
"It's about a few young Hispanic women in Southern California," she said. "I was more trying to explore the characters and their relationships than write a plot-based piece."
Rodriguez, who is majoring in English and film and media studies, was inspired by the S.E. Hinton novel The Outsiders, which she had initially read in middle school and read again this year.
"When you're older I feel like it's a very different book," she said. "There's a lot of subtext about how the group cares for each other, and I wanted to write something like that."
Both King and Rodriguez have long had an interest in writing and have taken advantage of opportunities at William & Mary to develop their skills.
"W&M has given me so many amazing opportunities to practice and improve my writing, not only through contests like this one and the yearly Student Literary Awards, but also through classes, student literary publications and the Monroe research funding," said King, who also recently won the Virginia Outdoor Writers Association's college student essay contest.
Rodriguez's award-winning short story was born out of a creative writing class she took at the university in the spring – a class that she said was "incredibly helpful" in that it forced her to write and created the time for her to do so. She submitted "Girlhood" for the Newton-Blanchard Prize at the urging of the class's instructor, Visiting Professor of English M. Lee Alexander.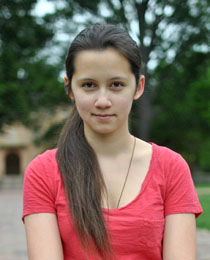 King said that "Connection in a Sea Urchin" came together bit by bit.
"With creative nonfiction, I usually write on each disparate topic separately, and wind up with a lot of unconnected short pieces that I then move around and weave together, usually while gnashing my teeth in increasing frustration, in an effort to end up with something at least vaguely resembling a cohesive whole," she said. "For this essay I decided to combine several ideas that I had been thinking about writing or rewriting for a long time."
Although King and Rodriguez took different paths to the creation of their works, they both found their efforts rewarded when they heard they had been selected for the prize.
"I've had some recognition for my writing in the past, but never really submitted or won anything on this scale before," said Rodriguez. "It was such a wonderful surprise. I'm living in Mexico City for the summer, and the Wi-Fi at my house is terrible, so I was running around the house with my laptop in one hand on the morning the Newton-Blanchard email arrived, trying to get it to load in my inbox. Then I called my parents – otherwise, I've tried to keep it on the down-low."
Getting feedback on writing is not always easy, said King, but being recognized through such awards as the Newton-Blanchard Prize is a confidence boost.
"As I said [before], I have been fortunate enough to have a lot of opportunities at W&M to grow as a writer, and nearly all of my recent writing achievements have grown out of these opportunities," she said. "So I was very grateful for the opportunity to participate in this new contest and to have my work recognized in such a way."