Natasha King '16 nets top Virginia outdoor writing honors
For the second year in a row, one of Ornithology Professor Dan Cristol's students has won the Virginia Outdoor Writers Association's college student essay contest.
Natasha King, a marketing and environmental science major who will graduate this week, was recently awarded best overall essay for her piece, "Encountering Orcas."
The 1,000-word essay recounts a whale-watching excursion she undertook in Washington's Puget Sound and the private delight and restorative power she has found since childhood in confronting nature alone.
"I remember, as a small child at the zoo, trying to climb up the side of the chain link fence surrounding the snow leopard exhibit in an attempt to get closer to the majestic silvery cats," she wrote. "I slipped and scraped my hand, but kept the injury to myself – it seemed private, a secret thing, a part and parcel of this quiet, personal encounter, this questing."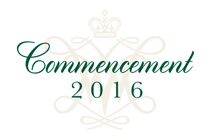 Her quest for an up-close look at an orca whale, plus other outdoor experiences she had in Washington, were part of a larger creative nonfiction writing summer project funded through the James Monroe Scholar Program. With the $3,000 funding, King stayed on Orcas Island for two-and-a-half weeks, gathering experiences for a series of essays that in the end will total roughly 50,000 words.
"I'm a big fan of [writer] Annie Dillard and really like Pilgrim at Tinker Creek," King said. "I obviously couldn't go to the Blue Ridge Mountains for a year and live in a cabin by myself like she did, but I wanted to do something similar on a smaller scale."
When Cristol alerted students to the annual VOWA/Dominion Resources 2015-2016 Annual Collegiate Undergraduate Writing-Photo Contest, she decided to enter, writing "Encountering Orcas." Her photo of a male cardinal was also recognized with an honorable mention. She was awarded $250 cash prize, her essay was published on the VOWA website and she read it aloud at VOWA's annual conference held over spring break in Staunton. "It was very exciting," she said.
Reading her work in front of strangers and having it be rewarded was very affirming for her, she said, especially because writing is largely a solitary endeavor.
"Natasha is one of those students who is so naturally gifted in writing, presenting, discussing and learning in general that one is left wondering if she has anything to gain from your class," Cristol said. "She makes the class better for those around her through her contributions to the discussion and the field trips, and she even produced a vibrant photo blog of our bird sightings and won the hotly contested bird identification contest over several more experienced classmates. She is the kind of student who makes me grateful to be a teacher and thankful to be at William & Mary."