McNeil Center fellowships awarded to Finley, Jones
Imagine being invited to spend nine months in a major city where you will receive an office, computer access, entry into some of the nation's most fruitful libraries, a monthly stipend, even the possibility of funded travel.
In exchange, the main requirement is you must complete the dream of your young life by writing your dissertation.
William & Mary graduate students Alexandra Finley and Christopher Jones don't have to imagine it. The McNeil Center for Early American Studies at the University of Pennsylvania in Philadelphia has seen to that by offering them fellowships.
According to the McNeil Center website, the center offers pre-doctoral fellowships to "encourage use of the Philadelphia area's magnificent manuscript, rare book, and museum collections. [It also] conducts a seminar series to promote intellectual community among local and visiting faculty and graduate students and organizes occasional national conferences to foster interdisciplinary research."
Finley and Jones, both PhD candidates at William & Mary's Lyon G. Tyler Department of History, will embark to Philadelphia in September and remain to May.
Finley will use her time to complete her dissertation on the antebellum slave trade and its various economies and how women's domestic and reproductive labor contributed to its financial success.
Jones will finish his study of the emergence of evangelical religion in North America and the Caribbean from the eve of the American Revolution to through the War of 1812, or roughly 1760-1820. It focuses on evangelicalism's role in the emergent anti-slavery movement and the reciprocal relationship between mass migration throughout the Atlantic world and the growth and emergence of the evangelical movement.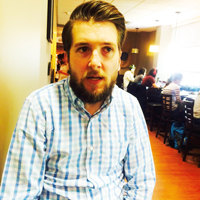 "It's very exciting," Finley said, a sentiment echoed by Jones. "It's a huge honor to be part of it."
As one would expect, there is nothing ordinary about either student or the topics they so passionately investigate.
Finley graduated summa cum laude with research distinction from Ohio State. He was awarded the Parker-Dooley Visiting Scholars Grant in 2013-14 at the Southern Historical Collection. She also earned a 2014 Mellon Fellowship from the Virginia Historical Society.
Jones, who received both his bachelor's and master's degrees in history from Brigham Young University, is the recipient of several grants. Included among them are the 2012 John E. Selby Award for Excellence in Undergraduate Instruction from W&M and the 2013 Best Article Award from the Mormon History Association.
History professor and advisor Scott Nelson calls Finley "one of the most remarkable graduate students I have ever worked with."
Jones' advisor, History Professor Christopher Grasso, extoled Jones' research as "extraordinary" and said it will "make a real contribution to both Atlantic history and North American religious history ... This is an exciting project on the cutting edge of early American studies and transnational religious history."
Jones said he applied for the same fellowship last year, but wasn't chosen. His dissertation research is also more complete, more textured, than it was a year ago.
"Christopher has done intensive research in 12 archives in the United States (Virginia, North Carolina, New Jersey, Pennsylvania, Maryland), five in Canada, and five in the United Kingdom," Grasso said. "That work has enabled him to see not just how the Methodist movement grew and changed but also how individual preachers, leaders and laypeople - black and white, male and female, free and enslaved -made sense of a world being transformed by migration, revolutions and wars. 
"He has discerned previously unrecognized links between - and differences among - the religious cultures of Canada, the Caribbean and the American South."
Finley, Nelson said, was recruited to W&M on the strength of her honors thesis on the Mayle family of West Virginia, the so-called "Guineas" of that region.
[She and her research were featured last November on the Public Broadcast System program "Finding Your Roots," in which she informed host Henry Louis Gates that the two of them were related.]
"Alex's intense interest in the history of African-American labor, family and leisure under capitalism came together in [a] 2012 thesis, a poignant and beautifully written story of the internal slave trade," Nelson said. "In it she used a variety of primary sources to unpack some very complicated family dynamics ... It was a remarkable piece of historical detective work that avoided the poles of either celebration of slave community or a litany of the terrors of the trade."