Rogers awarded Ransome Scholarship
There will be more than academics at stake for Kelly Rogers '15 in August when she travels to St. Andrews in Scotland to begin a one-year Ransome Scholarship.

In 1994, friends of American Ernest L. Ransome established a scholarship trust at the University of St. Andrews in his name to recognize his commitment to philanthropy, education and athletics. According to the scholarship's website, the mission is to "enrich the experience of deserving postgraduate students by affording them the opportunity to attend the university" tuition-free, with stpiends for housing, food and travel. Rogers joins Michael Woolslayer '09 as the only W&M recipients of the scholarship.
Rogers, who will leave Scotland with a master's degree in medical research, will study under Dr. Simon Powis, whose main research focus has been a group of molecules in the immune system called the Major Histocompatibility Complex (MHC) class I molecules.
But Powis is also studying one particular MHC class I molecule termed HLA-B27, which is closely involved in the development of a type of inflammatory arthritis of the spine called ankylosing spondylitis.
Rogers, whose goal is to become an orthopedic surgeon, is interested in ankylosing spondylitis because it is similar in nature to Multiple Sclerosis. While MS is a degenerative neurological disease, ankylosing spondylitis causes inflammation, pain and stiffness, mainly in the spinal joints. Both diseases are genetic. Rogers' family has been impacted by MS.
More specifically, she'll be studying a protein known as Interleukin 23, one that causes the inflammation. Does it hold the key to finally being able to cure inflammation diseases, not just treat them?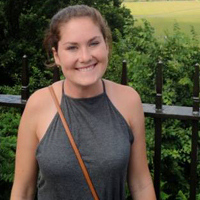 "I thought it would be really cool to see the genetic basics of why the disease occurs and the research at the chemical level – how we're learning and figuring out how to treat these diseases in the lab," she said. "That's the piece I really wanted before I applied to medical school. I wanted to see things from the ground level all the way up to the actual administration and follow through."
While it goes without saying that Rogers obviously was qualified academically to win a Ransome Scholarship, there's more to the award than just brainpower.
Ernie Ransome, who died in May 2013, graduated from Exeter Academy in 1944 and attended Princeton. While there, he played football and lacrosse, earning All-American in the latter in 1946.
Highly successful careers in a variety of endeavors followed graduation from Princeton in 1947, though he devoted much of his private life to golf. He was a trustee and member of the Board of Directors of Pine Valley Golf Club in New Jersey, to this day considered one of the top courses in the world. He also served the United States Golf Association with such distinction that in 1995 the organization awarded him the Ike Grainger Award for more than 25 years of service.
In June 2001, he earned an honorary Doctor of Laws from St. Andrews. Seven years before that, a group of his friends established a scholarship trust at St. Andrews in his name to recognize his commitment to philanthropy, education and athletics.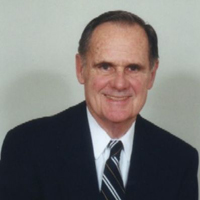 Rogers, who was an all-region selection in track and a National Merit Scholar in high school in Northern Virginia, was a member of the W&M track team from spring 2013 to fall of 2014. She also competed at the club level at the University of Virginia before transferring to William & Mary in 2012.
Since coming to W&M, she has been involved with Building Tomorrow. Founded by George Srour '05, its purpose is to build schools in Uganda.
"This isn't some 'helicopter' project, where American kids go over there and build the schools," she said. "We raise money and send it to [Building Tomorrow's national headquarters] and they use the money to buy supplies. Then the local communities build them and the Ugandan government provides the teachers and keeps the school running."
Most recently, Rogers assisted in a "Bike to Uganda" event on campus, where students, faculty and staff rode stationary bikes while collecting money. The goal at the end was for all of the bikers to have covered the distance from Williamsburg to Uganda.
Rogers estimated that the latest event raised close to $2,000.
Once she arrives in Scotland, one of her goals is to start a chapter.
"One of our alums is studying at Oxford and he just started a Building Tomorrow - UK chapter," she said. "I want to start one in Scotland so that we can have a little network over there."