Donaldson to explore 'the impossible craft' on Thursday
For 40 years, Scott Donaldson, biographer and William & Mary English professor emeritus, wrote about writers. Now, he's turned his attention to the writing itself.
Donaldson will speak Thursday, Sept. 24, at 5 p.m. in Blow Hall 201 about the perils of a career spent trying to illuminate the lives of great poets and novelists and catalogued in his latest book, The Impossible Craft: Literary Biography. The program is free and open to the public, in part due to the legacy of the late Patrick Hayes, with a reception following.
In his talk, "Summer of 1924: Zelda's affair," Donaldson will use the infamous entanglement of Zelda Fitzgerald in France – and the biographical treatment of it – to illustrate. Fully 13 biographers came up with as many interpretations of the affair and its importance on Zelda and F. Scott's work and lives.
"Also, it's a good illustration of persistence of error," Donaldson said. Fitzgerald's first biography, written by Arthur Mizener and published in 1951, got wrong the name of the French aviator with whom Zelda had the affair.
"It took nearly 20 years to get that corrected," Donaldson said.
Donaldson might be one of the finest guides for would-be biographers. In addition to countless articles and talks, he's published nine literary biographies on John Cheever, Edwin Arlington Robinson, Archibald MacLeish and others. He's written one biography each on Ernest Hemingway and F. Scott Fitzgerald, as well as two on Hemingway and Fitzgerald, as a pair.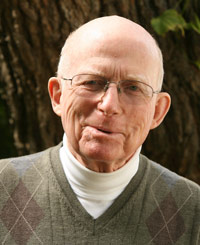 Donaldson came to William & Mary as an assistant professor of English in 1966 and stayed 28 years. The Donaldson Writer-in-Residence Program, established in 1971, is funded in part by an endowment from Scott and his wife, Vivian.
Early into his career, in the 1980s at William & Mary, Donaldson began keeping notes about the research and writing he was doing, with an eye toward someday writing a book about literary biography itself.
"I've just been accumulating what turned out to be a huge number of notes over a 30-year period," he said.
The result is the book that Charles J. Shields, himself an acclaimed literary biographer, said he'd "like to put into the hands of every literary biographer – published or aspiring."
But The Impossible Craft is no prescriptive how-to.
"It's intended as a discussion of how to write literary biography by way of showing how not to write literary biography," he said.
The Impossible Craft provides an intimate look at Donaldson's own life over the years; his struggles and failures, as well as his joys. The book promises to be useful to writers of all stripes. For readers, it provides an inside look at the process of writing nonfiction.
Donaldson's honest about his failures. Like alienating the entire family of John Cheever, to the point where they tried to block the publishing of his biography. Or flubbing an interview by asking family members point-blank whether an author had homosexual experiences.
Another danger for biographers: discovering new information and becoming enamored of it. "If they find it out, by God, they are going to put it in, because it's new," he said. "And they are going to emphasize it and think it's really important."
Case in point, one Fitzgerald biographer found an entry card of Zelda's to a Monte Carlo casino and on that basis only, argued that she and her lover must have had a rendezvous there. Donaldson is skeptical.
Or an unexpected gremlin: knowing too much. "If you're interviewing somebody and they start telling you a story you've heard 14 times before, you musn't interrupt and say, 'Oh, I know all about that,'" he said. "That just puts them down. It's very difficult getting more information…
"The problem, I suppose is a certain arrogance that comes into the biographer's mindset after he's spent a number of years going to bed, waking up in the morning thinking about a subject."
Given that level of commitment among biographers, how is it possible that 13 of them can get one simple affair wrong before someone gets it right?
"I'm not saying anybody's got it right," Donaldson says, with a laugh. "What you want to do is reach the highest level of probability … After going over what everybody else has done, looking at what sources they used, checking those sources and then tracking down all of those leads, you arrive at some kind of interpretation that you're satisfied is an approximation of the truth.
"That's all that any biographer can really do. Because the entire truth about anything is probably not available."
Hence the impossible craft.