Love the arts? Mark your calendar for these fall events at W&M
Update: Due to production challenges, W&M Theatre is unfortunately unable to move forward with the world premiere performances of The Sisters Grey originally scheduled for Oct. 1-4. David Hare's The Blue Room will be produced instead. - Ed.
The semester has just begun, and William & Mary's calendar is already filling with events. Among those are multiple concerts, exhibitions and performances. Here is a look at some of the arts-related events – art, dance, music, theatre, writing and other – coming up at William & Mary in the fall semester. For more, visit the William & Mary events calendar.

Art
The Muscarelle Museum of Art will feature recent works by W&M's studio art faculty in Faculty Show 13, running from Sept. 12 through Jan. 17. The exhibition includes ceramics, drawing, painting, photography, printmaking and sculpture by William Barnes, David Campbell, Linda Carey, Lewis Cohen, Suzanne Demeo, Michael Draeger, Eliot Dudik, Michael Gaynes, Kathleen Hall, Mike Jabbur, Marlene Jack, Brian Kreydatus, John Lee, Jayson Lowery, Elizabeth Mead, Edwin Pease and Nicole McCormick Santiago.
The Muscarelle will also continue to show Twilight of a Golden Age: Florentine Painting After the Renaissance, Masterworks from the Haukohl Collection, through Jan. 17. The exhibition features some of the finest works from the Florentine Baroque period, which was marked by the use of vibrant colors and shadow that portrayed dramatic scenes wrought with emotion. The collection was curated by Sir Mark Fehrs Haukohl, who generously made the exhibition possible.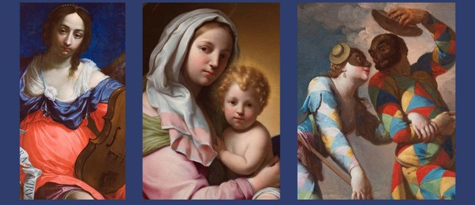 The Muscarelle will also host three William & Mary professors lecturing in its Faculty First Tuesday lecture series. Visiting Assistant Photography Professor Eliot Dudik will speak on Oct. 6, followed by Edwin Pease, adjunct architecture instructor, on Nov. 3. Elizabeth Mead, Class of 1963 Term Distinguished Associate Professor of Art and Art History and department chair, will speak Dec. 1. The museum also hosts the Third Thursday lecture series at 6 p.m. monthly, beginning in September. Both series are free and open to the public.
The Art and Art History Department's Andrews Gallery will present Ceramicists and Sculptors in Two Dimensions from Sept. 2 through Sept. 30, with an opening reception from 4 to 6 p.m. on Thursday, Sept. 3. The exhibition highlights sculptors' and ceramists' use of drawing. Artists include John Aiken, Edward Allington, Kendall Buster, David Crane, Max Holdaway, Kiernan Lofland, Geraldine Ondrizek, Brad Schwieger, Chris Staley and James W. Sullivan.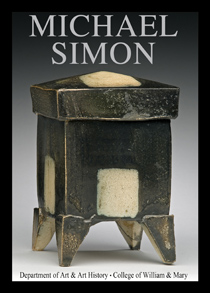 Ceramicist Michael Simon will present the latest in the Art and Art History Department's Distinguished Lecture Series. Simon will speak at 5:30 p.m. on Tuesday, Sept. 15, in Andrews 101. With a pottery career that has spanned decades, Simon is perhaps best-known for his lidded jar form. Graphic patterning or stylized animal motifs adorn the pots in such a way that it becomes unclear whether the forms inspire the motifs or vice versa.
Art & Art History will also welcome artist and illustrator Sue Coe, who will lecture at 7 p.m. on Thursday, Oct. 15, in the Tucker Theatre. Coe, described as a "graphic witness," blurs the line between journalism and art with prints and drawings that illuminate such topics as factory farming, apartheid, sweat shops, prison, AIDS and war. The next day, Friday, Oct. 16, she will deliver a printmaking workshop and demo from 2 to 4 p.m. with Associate Art Professor Brian Kreydatus at the Matoaka Studio.
The Andrews Gallery will show the work of Catron Scholars and fall-graduating art students in an exhibition running Nov. 17 through Dec 3. The Louis E. Catron Scholarship for Artistic Development provides funding to talented students in the creative and performing arts. The scholarship was named in honor of Catron, professor of theatre emeritus, who taught courses and directed productions at William & Mary for more than 35 years.
Dance
DANCEVENT, W&M's annual concert of original choreography by dance faculty members, is scheduled for Oct. 22-25.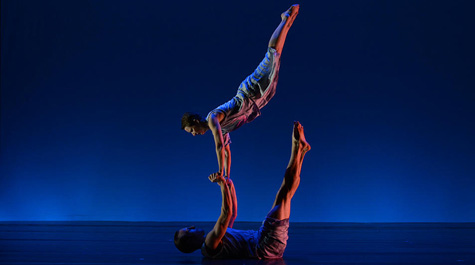 The event will include pieces by Joan Gavaler, Leah Glenn and Lauren Morris, performed by faculty, the Orchesis Dance Company and guest artists.
Music
William & Mary's many music groups and ensembles are expected to give myriad performances throughout the fall semester, including a Family Weekend Concert by the W&M Choir, Women's Chorus, Wind Ensemble and Symphony Orchestra at 8 p.m. Sept. 25 in W&M Hall.
Other upcoming events include: a W&M Music of India Ensemble concert under the direction of Max Katz is planned for 8 p.m. Nov. 14 in Ewell Recital Hall; a Jazz Ensemble/Jazz Combo concert at 4 p.m. Nov. 15 in the Kimball Theatre; an opera scene recital at 8 p.m. Nov. 19 in Ewell Recital Hall; the W&M Symphony Orchestra fall concert at 7:30 p.m. Dec. 4 in Phi Beta Kappa Hall; and two Winter Choral Concerts, planned for 2 p.m. and 7:30 p.m. Dec. 5 in Phi Beta Kappa Hall. Additional events may be found on the Department of Music's events calendar.
In addition to performances by W&M groups, the Ewell Concert Series — W&M's only professional concert series — will bring several other musical groups and performers to campus throughout the fall semester. The series will kick off at 7:30 p.m. Oct. 8 with a free performance by Amici Della Musica in Ewell Recital Hall.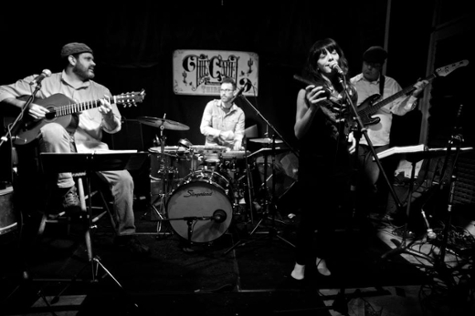 Quatro Na Bossa, whose repetoire spans from Bossa Nova standardsto other Brazilian genres and original material, will perform the second, free concert in the series at 7:30 p.m. Nov. 1 in Ewell Recital Hall.
On Nov. 15, the series will host Clocks in Motion, a unique percussion group that combines theatre, performance art and even the construction of new instruments in its concerts. That free performance will begin at 7:30 p.m. in the Williamsburg Regional Library Theatre.
Theatre
The 2015-2016 mainstage theatre season will kick off on Oct.1 with a production of David Hare's The Blue Room, which will run through Oct. 4. The production, which is for mature audiences only, will be directed by Christopher Owens.
Avenue Q, the hit Broadway puppet-musical by Robert Lopez and Jeff Marx will take the stage for two weekends this fall, Nov. 12-15 and 19-22. Directed by Laurie Wolf, this laugh-out-loud musical tells the timeless tale of a recent college graduate, who moves to a shabby apartment in New York City, all the way out on Avenue Q, and meets an array of characters only found in the Big Apple.
Writing
Several writers are expected to visit campus this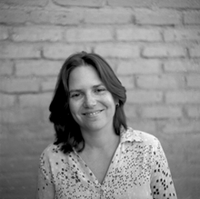 fall to discuss their craft as part of the Patrick Hayes Writers Series.
Lucy Corin (fiction) will give a talk in Andrews Hall, room 101, at 5 p.m. on Sept. 17, and Ann Beattie (fiction) lecture in Tucker Theatre at 7 p.m. on Oct. 27.
Other events
On Sept. 19, the W&M Confucius Institute will host an International Festival of Food and Arts, 11 a.m. to 7 p.m. at School of Education.
The institute will also host an open house during homecoming that will feature calligraphy, music and other demonstrations. That event is planned for Oct. 23, 1 to 5 p.m.