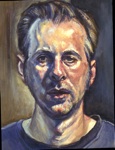 Brian Kreydatus
Professor of Art
Office: Matoaka Art Studios 105
Phone: (757) 221-2631
Email: [[bskrey]]
Areas of Specialization: Printmaking and Life Drawing

Artist Statement
I am a recorder of the human figure, or more accurately, the human condition. 
I am obsessed with the skin's meaty physicality, its vulnerability, and how these poignantly beautiful imperfections challenge and refute accepted canons of beauty.
My interests take form in two different albeit complementary and intertwined bodies of prints and paintings: 1) observational figures and portraits and 2) works that are narrative or symbolic in content.
In the first, I record my subject matter through a direct and prolonged empirical investigation. In these works, I place my emphasis on the formidable challenge of rendering my physical sensations of light, color, and space, as filtered through my interest in the corporeal qualities of the figure. These observational works call into question the act of looking and our assumptions about the appearance of the thing most familiar to us, the figure. I want these works to be formally rigorous and yet contain the smell and feel of the human animal.
The second body of work is more narrative and symbolic. I attempt to make visible the disjunction between our shared external reality and our internal stream of consciousness- a dialogue only hinted at in the more purely observational work. These images usually start in my imagination as opposed to looking and reach fruition through a combination of observational painting and pictorial invention. I want these works to have the same corporeal presence as my more straight ahead depictions with the added emotion or psychological punch of unexpected content and juxtaposition.     
In my purely observational works, I want to make the familiar unfamiliar through the intense scrutiny of looking. I want my narrative works to have the heightened intensity of a fever dream. Each approach strengthens and nourishes the other.


Education
1994
Master of Fine Arts, University of Pennsylvania, Philadelphia, Pennsylvania.
Emphasis: Painting and Printmaking.
1991                        
Bachelor of Fine Arts, Syracuse University, Syracuse, New York. Magna cum laude.
Major: Illustration, emphasis painting and drawing.
1997, 1998          
Lithography course work at the Pennsylvania Academy of Fine Arts, Philadelphia, Pennsylvania.
Selected Exhibitions
SOLO EXHIBITIONS
2010    
Figures and landscapes,Gross McCleaf Gallery, Philadelphia, PA
Recent works on paper, Western Oregon University, Monmouth, OR
2008
Greetings from Williamsburg, Red Door Gallery, Richmond, VA.
Recent Works, Boland Gallery, St Josephs University, Philadelphia, PA
2002  
Recent Works from Palladium West, Anchor Graphics, Chicago, IL.                   
INVITED EXHIBITIONS
2009
Jeff Dion, Brian Kreydatus, Steven Labadessa, MDH Fine Arts, New York, NY.
2008  
Quebec, 400 years, Engramme, Quebec, Canada
2006 
Pygmalion, Original Print Gallery, Dublin, Ireland.
2005  
Transatlantic, Royal Hibernian Academy, Dublin, Ireland.
2003 
The Naked Form: Michael Kane, Brian Kreydatus and Nick Miller, Rubicon Gallery, Dublin, Ireland.
Grants, Awards, & Residencies
2009  
Purchase Prize, Delta National Small Prints Exhibitions, Arkansas State University,
Jonesboro, AK.
Artists Residency at "Artist House", Saint Marys College, MD. Two week artists residency.
2008  
Artist Residency at "La Cite International des Arts", Paris, France. Two month residency.
Artist Residency at Virginia Center for Creative Arts, Amherst, VA. Two week residency funded by the Richard S. Reynolds foundation.
2007  
Purchase Prize and Cash Award winner, Exhibition 280, Huntington Museum of Art, Huntington, WV.
2005  
Artist in Residence at St Marys College, St Marys MD. 3 week residency, including public lecture on my work.
2002 
First Place Award, Impressions- National Print Exhibition, Galway Arts Center, Galway, Ireland.
Visiting Artist, The Black Church Print Studio, Dublin Ireland. 10 week residency for intaglio and lithography.
2000                    
Visiting Artists Fellowship. Brandywine Off-set Lithography Institute, Philadelphia, PA.
1996                    
Studio Rental Allowance Grant. Irish Arts Council, Dublin, Ireland.              
1995-1996            
Fulbright Grant. Dublin, Ireland. Independent Research in painting and printmaking.
Courses
Printmaking
Life Drawing
Websites & Links
http://www.grossmccleaf.com/artistpages/kreydatus1.html