Students serve across Williamsburg to honor King's message
Despite having the day off from classes for Martin Luther King Jr. Day, many William & Mary students were still hard at work Monday. They weren't in Swem Library getting a head start on the week — instead, they were giving their time to their community.
Each year, William & Mary's Office of Community Engagement (OCE) orchestrates a day of community service and social justice work in honor of King's birthday. This year, more than 200 students participated in service projects with 14 nonprofit organizations across the Williamsburg community. It was one of several events held on campus in honor of the celebrated civil rights leader.
The W&M Law School hosted a discussion on King and civil disobedience, and, on Thursday, the university hosted its annual King commemoration ceremony with guest speaker Roslyn M. Brock, chairman of the National Board of Directors for the NAACP.
Service with a purpose
While OCE organizes several service days throughout the year, students participating in the King service day know this one is special because it occurs in the context of King's message.
"Today is a day for us to connect with Dr. King's legacy and to think about his vision of a 'beloved community.' We're connecting a lot of different groups on the College campus with groups in the community to create dialogue to take action and really work towards a more just community," said Austin Pryor, OCE's coordinator of education programs.
To focus participants on the greater meaning of their service work, OCE hosted a Sunday night gathering where 180 students gathered to consider King's call to action, share their dreams and prepare for their day of service.
Elizabeth Miller, the Coordinator of Community Engagement, led the diverse array of students in discussions of turning "a day off" into "a day on."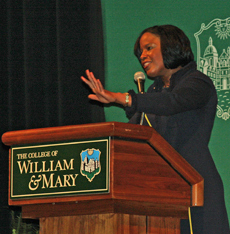 "We're here to do what Dr. King wanted us to do," she said. "Build a movement of people who want to serve others. It's an opportunity to engage in service, honor his memory, and honor each other."
The theme of service continued into the talk given by Brock at the commemoration on Thursday night, was sponsored by the William & Mary Center for Student Diversity.
"Let's think about what Dr. King meant with his speech," Brock said. "Let's think about whether we want this to be a day on, or a day off. If we can work together, we must work together, to bring our nation forward."
Working around Williamsburg
While the sun climbed into the sky warming an otherwise chilly morning, a group of ten students were busily raking, pruning, and tilling Mattey's Garden, a functional outdoor classroom at Matthew Whaley Elementary School.
The students joined master gardeners from around Williamsburg as they worked, forging connections with the people who make up their community.
"These students and others that come during the year provide a lot of the manpower to help get the garden ready for spring—we'll be putting in peas next month," said Jenrose Lashinger, manager of Mattey's Garden. "They are very able-bodied and very intelligent and are able to do a lot of things that we can't do just with the children."
Mattey's Garden was also a project site during SHOW Day, an OCE service day in the fall designed to give freshmen a chance to be "students helping out Williamsburg." Hallie Westlund '16 participated in SHOW Day her freshman year, then returned to Mattey's Garden as a SHOW Day site leader her sophomore year.
Westlund noted that for her group, SHOW Day became much more than a single day.
"Every month, we would come back on a Friday to help the kindergarten and first grade classes plant herbs and show them around the garden," she said, adding that she came out on King Day because she thinks it's a really important day to volunteer.
Tessa Diehl '17, who also tutors students at Matthew Whaley, also joined the garden laborers with a group from Alpha Phi Omega because it provided her a chance to work in the same garden as her students.
The majority of service projects took place during the afternoon, with students helping at a variety of nonprofits including Avalon, the Salvation Army, Lafayette Village, the Hospice House, Heritage Humane Society, and Campus Kitchens.
At the Habitat for Humanity ReStore, a favorite service location for William & Mary students throughout the year, volunteers from the Muslim Student Association, Intervarsity Christian Fellowship and Alpha Kappa Alpha put together cabinets, accepted donations, and sorted the store's inventory.
"[King] really valued service to others, as do we as part of the Muslim Student Association, and we think it is really important to give back to the community," said Yussre ElBardici '16. "I already knew some people from Intervarsity, and it's been really fun meeting new people and getting to work with them. We're all doing something we all agree on and celebrating this common, shared value."
All of the ReStore's profits go directly to Habitat for Humanity's mission of providing housing to those in need, a purpose the student volunteers were eager to support.
"I think today is a wonderful way to honor King by actually serving instead of just thinking about all that he did," said Lindsey Hughes '16, an Intervarsity member and first-time ReStore volunteer. "Today we have been moving around different types of lumber—without getting splinters!"
On the other side of campus, a group from Baptist Collegiate Ministries gave their time at the Richmond Road Goodwill store by receiving and sorting donations, creating floor displays and organizing the shelving.
"We felt inspired to really give back to our community in a way that is going to be impactful and practical. Today we're rearranging all of the aisles and providing proper displays," said Brian Jenkins '17. "The Office of Community Engagement provides great opportunities on MLK Day to go out into the community to volunteer and make a difference."