NAACP board chair to speak at W&M's Martin Luther King commemoration
Roslyn M. Brock, chairman of the National Board of Directors for the NAACP, will speak at William & Mary's 2014 Martin Luther King, Jr., commemoration.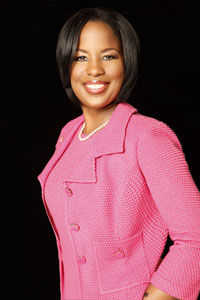 The event, which celebrates the life and legacy of King, will take place in the Sadler Center's Commonwealth Auditorium at 7 p.m. on Jan. 23, 2014. Sponsored by the William & Mary Center for Student Diversity, the event is free and open to the public. No tickets are required.
"We are excited to have Chairman Brock joining us for this year's King commemoration," said Vernon Hurte, director of the center, assistant to the vice president and senior associate dean of students. "She is a part of the new generation of leaders that are poised and ready to continue King's legacy of fighting injustice everywhere. I'm certain those in attendance will leave inspired to continue the work towards realizing the 'beloved community' that Dr. King worked so hard for."
Brock is the youngest person to have ever served as chairman of the NAACP board, a position she was unanimously elected to in 2010. She has served the organization for 27 years, joining the NAACP as a student at Virginia Union University. Throughout the years, Brock has held a number of leadership positions with the NAACP, including vice chairman of Board Health Committee, chairman of the National Convention Planning Committee and vice chairman of the National Board of Directors. She also created the NAACP Leadership 500 Summit and initiated the NAACP's 2012 policy decision to support marriage equality.
Brock currently works as vice president of advocacy and government relations for Bon Secours Health System, Inc., in Marriottsville, Md.  She previously worked in health programs at the W. K. Kellogg Foundation in Battle Creek, Mich.
In addition to the NAACP, Brock also currently serves on several other boards, including the Board of Trustees for George Washington University, the Kellogg Global Advisory Board and American Public Health Association.
Brock holds a master's degree from George Washington University, a Master of Business Administration degree from Northwestern University and a Master of Divinity degree from Virginia Union University.
In 2014, she will join a growing list of notable speakers who have delivered remarks at William & Mary's annual Martin Luther King, Jr., commemoration, including Cornell West, Michael Eric Dyson and – most recently – Julianne Malveaux.