First cohort of Executive Ed.D. students to graduate Sunday
With her dissertation successfully defended, Amy Colley rang the bell on the second floor balcony of the William & Mary School of Education three times: once for the past, once for the present and once for the future.
On Sunday, Colley will begin that future as she becomes one of the first students to graduate from William & Mary with an Executive Doctor of Education (Ed.D.) degree in K-12 administration. Eight students from the program's first cohort are receiving their degrees this weekend after three years of work, during which many of them simultaneously held educational leadership positions in school districts from Hampton Roads to Pennsylvania.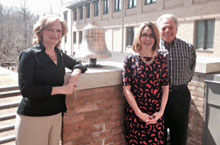 "We have really grown and changed in these three years," said Colley, the assistant superintendent for curriculum and instruction for Poquoson City Public Schools. "I think six of us are in different jobs! All are amazing learners, readers, educators, spouses, parents and leaders, and I am very proud that we are completing this together."
The program was designed specifically for K-12 practitioners, said Peggie Constantino, director of the Executive Ed. D. program. The "executive" designation means that the schedule is compressed; students take classes during the summer, on weekends and online.
"I found that the pre-work, intense weekend classes, interim work and post-work made for some of the strongest learning experiences I have had in education," said Colley. "This approach works!"
Students in the program are responsible for a dissertation, but it's a "dissertation in practice," said Constantino, meaning that the students focus their research on real-world problems happening in their schools.
"They see their work side-by-side with their day-to-day jobs," she said. "It's not something that you stop and go and learn this and then try to make it fit. It very much fits simultaneously with the work that they're doing day to day."
That form of inquiry sequence -- tied directly to effective practice in the schools -- is a model that has gained attention from others in the School of Education, Constantino noted.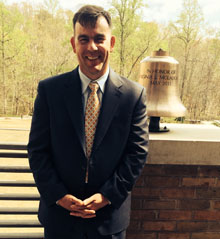 "It's not just staying within our program," she said. "It was developed there. It's been polished. It's been executed, and others have taken notice and so now it's having a broader impact across the School of Education."
Although other Executive Ed.D. programs are much larger, the W&M School of Education has sought to keep its small, led by five faculty members and two adjuncts. Just 12 students were in the first cohort, followed by seven and eight in the following groups. The next cohort, which begins in July, will have 16 people, and Constantino has a waiting list of others who'd like to join.
However, keeping the program small has allowed it to remain "high-touch," said Constantino.
"We refer to it here as 'high-touch' because we are engaged as a faculty with our students," she said. "We teach more than one course throughout the sequence, so they get to know us and we get to know them … They teach us. We learn a lot from them about new ways to do things that we can bring to our next cohort, and so I think the idea that we are a strong, cohesive team is unique."
Working as part of a small cohort is one of the things that Colley appreciated about the program.
 "The rich perspectives and diverse backgrounds of my colleagues provided a fertile ground for learning," she said. "My professional connections expanded in a very positive way through the cohort."
The students also praised the caliber of the faculty in the program and their commitment to the cohort's success.
"Our teachers were so knowledgeable, so inspiring, and so compassionate, that I immediately felt committed to the program, and I did not want to let my professors down," said Joyce McDowell, principal at Smithfield High School in Isle of Wight.
The program taught McDowell how to become a better leader and a reflective thinker, she said.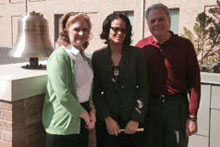 "It is so important for the success of a program, a process or a conversation, to reflect on what happened and how we can make improvements," McDowell said. "This program is all about pushing learners to another level of thinking, and I know I have reached a higher level, as an administrator."
Colley, too, praised the program for helping broaden her perspective on K-12 education.
 "In Virginia, it is easy to become swallowed up in the standards movement and the way we do things; coursework with a cohort from across the country was important to my growth and understanding of U.S. educational policy and practices, the implications of the Common Core, collective bargaining and leadership in education beyond Virginia," she said. "Engaging in ongoing research, growth, reflection and development improved my work while I was in the cohort, and I think I will continue those practices beyond the cohort because they are valuable and give me a broad perspective of the field of education."
Colley and McDowell are both looking forward to participating in Commencement this weekend and celebrating the day with their families as well as the other members of the cohort and the faculty members who have guided them along the way.
"They have made us their priority, and I am so appreciative of the high-touch learning environment they have provided," Colley said. "I look forward to being able to thank them."