Medal of Honor recipient Leroy Petry to speak at W&M's Commencement
U.S. Supreme Court Justice Antonin Scalia also to attend, offer remarks

Medal of Honor recipient Leroy Petry, who has become a symbol of inspiration for wounded soldiers, will speak at the 2014 William & Mary Commencement Ceremony, scheduled for 10 a.m. May 11 in Kaplan Arena. The sergeant first class was awarded the U.S. military's highest honor for saving the lives of two fellow Army Rangers in Afghanistan, an action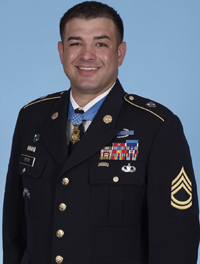 that cost Petry his right hand.
"As William & Mary students, we are committed to serving others regardless of the paths we take after graduation. Sergeant First Class Petry embodies this responsibility to serve, and we are excited to welcome him to the College as our 2014 Commencement speaker," said Chase Koontz '14, president of the Student Assembly. "As a Medal of Honor recipient and one of only two to reenlist in active duty, his commitment to a life of service and his actions of heroic self-sacrifice are truly inspirational."
Petry will receive an honorary degree at the ceremony, along with Alan B. Miller, chairman and CEO of Universal Health Services and namesake of the Mason School of Business' Miller Hall. U.S. Supreme Court Justice Antonin Scalia will also attend the event and offer brief remarks as will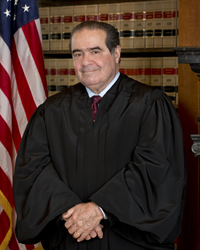 William & Mary Chancellor and former Secretary of Defense Robert M. Gates '65, L.H.D. '98. Justice Scalia, who received an honorary Doctor of Laws degree in 1991 (LL.D. '91), will also deliver William & Mary Law School's graduation address later that day. The W&M Commencement ceremony will be streamed live online.
"Sgt. Petry brings a powerful story of commitment, loyalty and resiliency that is truly inspiring," said William & Mary President Taylor Reveley. "We are very fortunate to have him join us for Commencement and share his story with our graduates. We are also delighted to honor one of our most accomplished alumni, Alan Miller, whose success in the business world has few peers. It will be grand as well that Chancellor Gates and Justice Scalia will have words of greeting and congratulations for the Class of 2014 graduates. This will be a wonderful day."
Leroy Petry
Born in New Mexico, Petry wanted to join the U.S. Army since childhood. In 1999, he fulfilled that dream and volunteered for the 75th Ranger Regiment. Since joining the Army, he has served two tours in Iraq and six in Afghanistan.
During one such tour in May 2008, Petry, then a staff sergeant squad leader, was clearing a courtyard in Paktia, Afghanistan, with a fellow Ranger. They came under fire, and Petry was hit in both legs. The other Ranger, Pfc. Lucas Robinson, was shot on the edge of his body armor, near his ribcage. The two hid behind a chicken coop, where Sgt. Daniel Higgins soon joined them.
The three were working to secure both sides of the chicken coop when they heard a grenade explode. Yelling for the others to stay down, Petry turned around to see a pineapple grenade sitting on the ground between them. Petry immediately reached for it and was throwing the device when it exploded, destroying his hand. Despite the loss, Petry was able to put a tourniquet on his own arm and radio for assistance. When medical help arrived, he directed it to the other soldiers before accepting help for himself.
Because of his actions that day, President Barack Obama awarded Petry the Medal of Honor on July 12, 2011, making him the second living military member to receive the honor for efforts taken after the Vietnam War. In addition to the Medal of Honor, Petry has received several other awards for his service, including two Bronze Star medals and a Purple Heart.
Since the May 2008 incident, he has remained on active duty and even served another tour in Afghanistan. Petry, who now uses a prosthetic hand, currently serves as a liaison officer for the Special Operations Command Care Coalition, working with wounded soldiers and their families at Joint Base Lewis-McChord, Wash. Petry's work with wounded soldiers and his Medal of Honor have garnered him national recognition, and he's made numerous appearances across the country, drawing large crowds. He has met political leaders, celebrities and sports stars and appeared on shows like The Daily Show with W&M alumnus Jon Stewart '84. In 2013, Santa Fe unveiled a statue of Petry outside of its City Hall.
Alan B. Miller
Miller graduated from William & Mary in 1958 and earned his Master of Business Administration degree from the Wharton School at the University of Pennsylvania. He went on to join the U.S. Army, serving as a member of the 77th Infantry Division and achieving the rank of captain.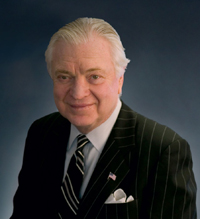 Miller worked as the chairman and CEO of American Medicorp Inc. before founding Universal Health Services in 1978. Since then, the healthcare management company has grown into one of the nation's largest with more than 225 facilities across the United States and an annual net revenue of approximately $8 billion.
A nationally known leader in the healthcare industry, Miller has received numerous accolades. He was named "CEO of the Year" in hospital management by Financial World, included on Modern Healthcare's list of "100 Most Powerful People in Healthcare," and presented with the Federation of American Hospitals' first lifetime achievement award.
Throughout the years, Miller has remained closely connected to William & Mary. He served as a trustee of the William & Mary Endowment Fund, and he is a lifetime member of the W&M President's Council. In 1991, Miller received the William & Mary Alumni Medallion, the university's highest honor for alumni.
The new home of the Mason School of Business, which opened in 2009, was made possible through Miller's support. The building, Alan B. Miller Hall, bears Miller's name.