Justice Scalia to speak at William & Mary Law School graduation
U.S. Supreme Court Associate Justice Antonin Scalia will deliver the commencement address at William & Mary Law School's graduation ceremony on Sunday, May 11. Justice Scalia previously delivered the Law School's commencement address in 1991.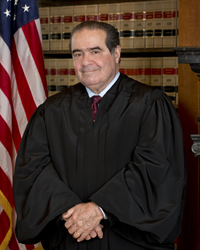 The Law School ceremony, which will be held at Lake Matoaka Amphitheatre, begins at 4:00 p.m. Degrees will be awarded to approximately 268 students in the J.D. and LL.M. programs. Seating will be limited to graduates and their guests.
"The last time that Justice Scalia was here, he taught an administrative law class and fielded questions from students and faculty," said Davison M. Douglas, Dean of the Law School. " We are delighted that he is returning to share his rare insight and advice with the Class of 2014 and give them a sendoff they will long remember."
2013-14 Student Bar Association President Sean Radomski J.D. '14 said that his classmates asked Scalia to speak not only because of his familiarity with the Law School, but because of his reputation as "one of the preeminent jurists of our time."
"His career is a testament to the Law School's 'citizen lawyer' ideal," Radomski said. "It is fitting, and an honor, that the school named after one of our most prominent early U.S. Supreme Court justices will host one of today's most notable as our Commencement Speaker."

Scalia received his A.B. from Georgetown University and the University of Fribourg, Switzerland, and his LL.B. from Harvard Law School, and was a Sheldon Fellow of Harvard University from 1960–61. He was in private practice in Cleveland, Ohio from 1961–67, a Professor of Law at the University of Virginia from 1967–71, and a Professor of Law at the University of Chicago from 1977–82, and a Visiting Professor of Law at Georgetown University and Stanford University.
Scalia was chairman of the American Bar Association's Section of Administrative Law, 1981–82, and its Conference of Section Chairmen, 1982–1983. He served the federal government as General Counsel of the Office of Telecommunications Policy from 1971–72, Chairman of the Administrative Conference of the United States from 1972–74, and Assistant Attorney General for the Office of Legal Counsel from 1974–77.
In 1982, Scalia was appointed Judge of the United States Court of Appeals for the District of Columbia Circuit, and four years later was nominated by President Ronald Reagan as an Associate Justice of the U.S. Supreme Court. He took his seat on Sept. 26, 1986.
For more information on the commencement ceremony, please visit https://events.wm.edu/event/view/law/36204.