Trash into treasure: DormMania seeks to curb end-of-year waste
{{youtube:medium|O-NaF2-74sQ, DormMania at W&M}}
When William & Mary students say goodbye to the campus for the summer, they often bid farewell to a good number of their belongings, too. Although many of these items have ended up in dumpsters in the past, a new, student-led initiative is working to reduce that waste this year.
Over the last two weeks, the DormMania program has collected hundreds of items – including furniture, cleaning supplies, clothing, kitchenware and more -- at locations across campus. More than 80 students volunteered to help collect, sort and store the items, which will be sold in a yard sale at the beginning of the fall semester.
"A university is a really special place … we have this enormous power – the power of scale – to be able to collect a lot of things and organize people in a way that can be really efficient and reduce waste," said Audrey Kriva '17. "This project is an effort to cash in on that power as a university."
PLAN of action
Kriva, a biology major, came up with the idea for the program after attending a conference presentation by members of the non-profit organization Post-Landfill Action Network (PLAN).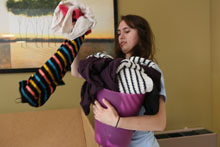 "I was just totally inspired," she said. "I came out of the lecture and wrote down a bunch of notes and was like, this is going to be my thing. I'm going to make this happen on campus."
Kriva had been attending Student Environmental Action Coalition (SEAC) meetings at William & Mary, and brought her idea back to the members of its recycling group. Eric Dale '14, a geology and environmental science double major who was leading that group, gave Kriva information on similar past and ongoing efforts, including SEAC's Campus FREEmarket.
Dale also suggested that Kriva talk to some administrators on campus, starting with Bob Avalle, director of operations and maintenance for the Office of Facilities Management. After a successful meeting with him, Kriva went on to discuss her idea with several other administrators on campus, including people in the Office of Safety and Environmental Programs, the Office of Community Engagement and Residence Life.
"I was lucky enough to receive very positive attitudes from all of those people about the project," she said.
With their support, Kriva applied for a "green fee"-funded grant from the Committee on Sustainability and gathered a group of four other students, including Dale, to help lead the effort.
"Over time, the ownership changed from it being my project, since I had done some of the initial legwork, to something that was very clearly ours," said Kriva. "It's not my baby anymore; it's our baby."
Once the organizers received the grant of about $5,000, they kicked their planning into high gear. Because it was a brand-new project, they created contingencies for every scenario they could imagine.
"What if we get all rugs? What is it's 100 percent microwaves?  What if we get zero mirrors? How do we deal with all of those things?" said Kriva.
They also had to discuss details like how they would price items, said Dale.
"We were sorting hangars yesterday, and there were 15 different types of hangars. Are we going to price them differently? Are we going to price them the same?" he said.
Although starting from scratch was a challenge, the planning process was a great exercise in teamwork, said Kriva.
"We've been collaborative since the very beginning," said Dale. "Lots of times, we sort of just look at each other and feel like we're reading each other's mind."
Collecting, sorting, storing and selling
The students began spreading the word about DormMania in April, and they began the collection process on May 1.
Collection boxes – both large and small – were placed in every housing locations on campus, and five additional tents, manned with volunteers, were spread throughout William & Mary during the collection process, which ended on May 7.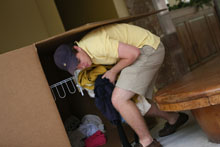 The Department of Environmental Health and Safety and the Office of Parking and Transportation Services provided many of the vehicles that the students used to collect and move items to a basement on campus for temporary storage. On May 8, volunteers descended on that location to begin the sorting process.
Among the items collected were carpets, fans, lamps, mirrors, chairs and storage boxes. They also received some unusual pieces, including fake flowers, a sushi keychain, fake eye lashes and quite a few costumes.
The clothing items that were collecting will be given to charity, but the rest will be stored over the summer at an off-site location and sold in August when new students arrive on campus. The proceeds from that sale will go toward making DormMania a sustainable program on campus, said the organizers.
The effort is important because what goes into dumpsters in Williamsburg, goes into landfills, said Dale.
"We are obviously a very long way from being a zero-waste campus, but we want to get the College of William & Mary closer to that," he said.
Not only does DormMania stop items from going to landfills, by selling it later, the program may reduce the amount of things that new students buy when they arrive at the College, Dale added.
"So it builds community because it is students passing stuff on to other students," he said.
Kriva said that seeing her idea come to fruition with the support of so many across campus has been an amazing experience.
"As with any large project, it's crazy to see it come from a tiny little nugget of an idea in my brain to something that's a really happening and happening almost independent of me now," she said. "I'm blown away. Never in my wildest dreams did I think it would be this effective and that I'd have a team this awesome to help me run it."