'Do One Thing' campaign hopes to make W&M campus more sustainable
Beginning today, William & Mary will again be home to the Do One Thing (or DOT) campaign, which encourages people to take small, personal steps toward sustainability.
The goal is that with every singular action taken by a member of the campus community, the community as a whole will become more sustainable.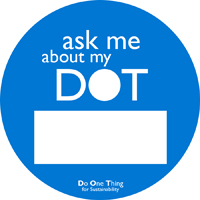 The DOT campaign began as an idea by the advertising and public relations firm Saatchi & Saatchi S and was originally brought to the W&M campus by Mason School of Business Professor Christopher Adkins in 2010. As it reboots this fall, the campaign will be handled by a group of seniors designated as DOT "Diehards" and underclassmen designated as "Leaders." One such student is Stephen Bennett, president of the Net Impact group at the business school and a DOT Diehard, who described how DOT hopes to be different than other sustainability efforts.
"The DOT movement is focused on creating sustainable change through happiness and using the four types of sustainability to accomplish that," he said. "We want to redefine sustainability to encompass environmental, economic, social, and cultural sustainability. The goal is for DOT to no longer be a movement, but part of your life and part of the culture of William & Mary. We want each individual and each organization to own DOT. It is not owned by anyone. DOT is owned by everyone! We want DOT to change our campus and it can only do that if each person believes that they are a part of it and own it."
To participate in the campaign, all that is required is to choose one sustainable action to commit to doing on a regular basis. Actions can range from using a reusable water bottle or coffee cup to opting for paperless textbook options. Participants write their "One Thing" on a blue dot sticker, which then serves as a reminder of that commitment.
Stickers will be given out on the Sadler Center terrace Friday from noon to 5 p.m. and will serve as an entrance ticket for a DOT party at The Crust 6-8 p.m. During the weeks following this launch event there will be DOT stations around campus where new DOTs can be made and displayed. Events will continue periodically throughout the fall semester. Details can be found on the
DOT Facebook page
.