Maloney's farm helps grow attitude of sustainability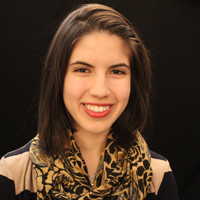 Editor's note: Earlier this semester, Jim Ducibella and David Williard of the Office of University Relations issued a challenge to students in one of English Professor Joanne Braxton's classes: Find people on campus, faculty or staff, that you feel are "unsung." Explain why you feel that way and, if approved, write a profile of that person for publication on this website. This is the third in a series of five such stories that will appear as part of the "Behind the Bricks" series over the next few weeks.
They are instructor Charlie Maloney's words to live by.

"Agriculture offers a lot of ways to make a difference," he says.

This desire to create positive change is, perhaps, what keeps William & Mary students queuing up to take Maloney's class, "Sustainability and Agriculture." In the past few years, Maloney has seen a surge in interest in his capstone Environmental Science and Policy seminar course, a trend that mirrors the expansion of the grassroots food movement.


"There has been a lot of attention given in the broader culture and in the media to the necessity of growing our food in a more sustainable manner," Maloney said, adding that it is an interest that "is spilling over to students as well."

The curriculum of "Sustainability and Agriculture" follows a trajectory from the theoretical to the practical aspects of working on a farm, beginning by discussing the philosophy behind sustainable agriculture. Students explore the works of authors such as Wendell Berry, Barbara Kingsolver and Michael Pollan, farmers and environmentalists all.

Caroline Wood '12 took the course last spring as part of her environmental science and policy (ENSP) major.

"The whole course in general was focused on the practical applications," Wood said, adding that it distinguished it from her other ENSP classes.

That practicality is something students are seeking, according to Maloney.

"I hear more and more from students that they would like to have more opportunities to develop the practical skills themselves," he said, "and see more fully how the mind, the body and the spirit work together when we are doing good work."

In the classroom, Maloney likes to draw from his own experiences as a farmer, telling stories and showing films on raising animals, growing vegetables and making artisanal cheeses. The class also makes two visits to his own Dayspring Farm, where he shows and teaches students the practical aspects of working on a farm.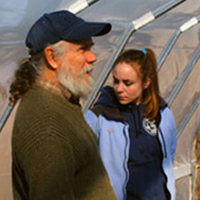 There were other benefits to learning from a farmer, Wood said. Maloney "would always bring in the most delicious produce…I didn't know carrots could taste that good! It made me want to be a farmer."

Her sentiment is not unique among Maloney's students, many of whom are interested in pursuing careers in farming.

Dylan Reilly '12 entered Maloney's course with just such a desire. After taking the course, he participated in the summer internship program Maloney hosts on his farm. Korey Erb '09, another former intern, now manages a farm at Guilford College.

"It's very heartening to me to see how students are really interested in the practical side of (agriculture) as opposed to the more theoretical and philosophical," Maloney said, adding that he believes strongly in the benefits of farming and gardening for students.

"When you're working more directly with the materials and the natural world, it has a way of building the whole person, as we say, and I think students are really hungry for that," Maloney said.

Reilly agrees; he believes that young people especially are attracted to "this idea that we can have livelihoods that combine our body and mind in some way."

However, the course is not exclusive to those who aspire to be farmers.

"You can participate in this field in a lot more ways than being a farmer," said Maloney, citing agricultural advocacy and policy work as examples.  

While several students have pursued farmwork after taking the course, "Sustainability and Agriculture" transcends the theoretical by having a measurable impact on sustainability on campus. As a final project, Maloney asks students to design a proposal for a practical project that could be implemented at William & Mary. Wood, for example, wrote a food shopping guide for students, comparing prices of the most frequently used grocery stores and investigating the availability of local produce.

Several projects have turned into concrete successes. The Real Food Williamsburg (RFW) Community Cooperative was founded by several students from a final project. RFW provides fresh, local produce to William & Mary students, faculty and the Williamsburg community. The campus gardens, which provide fresh produce to the dining halls and the Campus Kitchens, were another outcome of the course.

Would Maloney like to see a full farm at W&M, similar to the one Erb manages at Guilford? That, he says, is something he dreams of. However, challenges exist; W&M does not have enough land to host a farm, even though Maloney doesn't think it would take a lot of land.

"You could do a lot on even just an acre," he said "I think that probably the major hurdle is just the commitment from the College as a whole to get behind this effort," Maloney says. "I think the resources are there."

A farm, he says, would be consistent with William & Mary's commitment to sustainability.

"The College is committed to becoming more green, more truly sustainable in its practices, and of course (a farm) fits in with that quite well," Maloney said.

The farm could provide food to the dining halls, and might even lead to an on-campus farmer's market. This, Maloney says, "would really help to move awareness ahead quickly among students, faculty and employees about the centrality of agriculture in our lives and increase interest in how we're doing agriculture."

A farm would also provide opportunities for student research.

"The farm could really serve as an outdoor laboratory for research in a number of departments," said Maloney, including the sciences and the business school.
Despite the challenges that exist, Maloney is confident. "With ingenuity and commitment," he said, "I think it could happen."

While a William & Mary farm may be years in the future, agricultural opportunities on campus are expanding. Maloney already has plans to offer an optional lab section for "Sustainability and Agriculture" in spring 2014. He hopes that the university will begin offering more courses on sustainable agriculture, as well as an interdisciplinary course on food studies that could reach out to a broader base of students.

Will the interest in his class and other agricultural opportunities continue to grow?

"I feel confident that it will," he said.