Law professor trades in case law, precedents for a script, stage directions
Law students and faculty might recognize a familiar face on-stage this weekend in William & Mary's production of "Dancing at Lughnasa."
One of their own, Professor of Law James Dwyer, is a featured member of the cast. The production, which opened Oct. 3 and runs through Oct. 6 at Phi Beta Kappa Hall, is the first show of the university's 2013-14 theatre season.
"It was great good fortune when Jim came to audition -- he's taken two acting classes here at William & Mary from our faculty and appeared with the Williamsburg Players in a couple shows," said Christopher Owens, professor of theater, speech and dance and director of "Lughnasa." "This one character is significantly older than the rest of the … family and so it's great to have the credibility of Jim in the role along with this strong student cast."
Set in rural Ireland in 1936, the play tells the story of five unmarried sisters, linked to the outside world only by a temperamental radio. Dwyer plays Father Jack, the sisters' older brother. The character, a Catholic priest, returns from 25 years of service in a leper colony in Uganda and tries to convince his sisters of the value of Ugandan culture, music and dance.
"I am so grateful for this fantastic opportunity to learn from an extraordinary director, Christopher Owens, and from other faculty members who have instructed the cast on specific aspects of performance, as well as to be surrounded by the truly gifted students in our cast and crew," said Dwyer. "The theater department is a real gem on the William & Mary campus."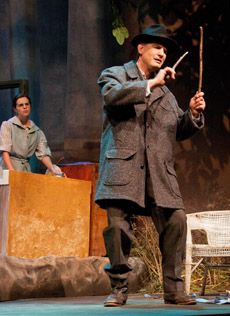 The play, written by Brian Friel, originated at the renowned Abbey Theatre in Dublin before moving to London and Broadway, where it debuted in 1992. It subsequently won the Tony, Outer Circle Critics and New York Drama Critics Awards for Best Play.
Dwyer is no stranger to local theater. For several years he has performed with The Williamsburg Players, a community theater group. His roles with that group include, Mr. Banks in "Father of the Bride," Richard Lionheart in "The Lion in Winter" and Mr. Darcy in "Pride & Prejudice."
When not on stage, Dwyer teaches courses family law and children's rights at the William & Mary Law School where he has taught since 2000.