Virtual Conversation Partners aid incoming international students
When Jingzhu Zhang '14 began her Ph.D. program with the Curriculum and Educational Technology (CET) program in the School of Education, she had only a vague idea of the research she would like to conduct, but knew that her experiences as an international student would and should influence her decision.
After speaking with a number of other international students at the School of Education, she realized that many of them struggled with the same three challenges: limited spoken English proficiency, intercultural misunderstandings and social isolation.
A review of existing research confirmed that these are common obstacles for international students studying in the United States.
"Though there was sufficient research on what kinds of struggles international students have, there was limited empirical research on actual solutions or programs aimed at supporting international students," recounted Zhang.
Zhang reached out to Cortney Cain, coordinator of the Conversation Partner Program, through the Graduate Center, Arts & Sciences. Together they surveyed all international members of the program and the resulting data led to the pilot Virtual Conversation Partners Program (VCPP).
"The VCPP is a peer program that promotes intercultural communicative competence through virtual conversations on Skype," explained Zhang. "It pairs domestic students from William & Mary with incoming international students. Each pair schedules conversations for one hour per week for three months in the summer, or at least 10 hours of conversation by the end of the summer."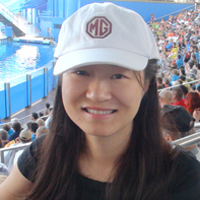 While developing the VCPP, Zhang applied for, and received, an Innovative Diversity Efforts Award (IDEA) grant from the Office of Diversity and Community Initiatives. In the grant proposal, she designated the maximum number of participants as 25 domestic and 25 international students, hoping to get near that many. Just one day after announcing the program on campus she received 33 domestic applications. With the help of the Reves Center for International Studies, Zhang contacted incoming international students and by summer 2012 had 63 domestic students and 64 international students involved.
For a variety of William & Mary students, previous experiences living and working abroadled to a desire to participate in the VCPP.
Isra Nikoolkan '14, a linguistics major at the College, jumped at the chance to participate after a semester studying abroad at Yonsei University, South Korea.
"I had a language exchange partner with whom I had conversations in English while being tutored in Korean," explained Nikoolkan. "We became great friends over time, learning about each other's cultures while improving our language abilities. I learned a lot about how to function in South Korea, and she learned much of the life I led in America."
Similarly, Scott Laws '13, an international relations major, spent spring 2011 in China and remembered his feelings of disorientation on arrival.
"Luckily while abroad I had some very helpful conversation partners that became some of my best friends," remarked Laws. "I would like the opportunity to give back."
Currently, the VCPP involves incoming international students from China, Taiwan, India, South Korea, Thailand, Pakistan, Nigeria, Australia and Austria. Through their weekly chats these students practice English pronunciation, vocabulary and grammar, as well as build confidence in speaking with native speakers and American classmates. Due to the ability to see their partners via Skype, students also practice reading English native speakers' nonverbal cues, such as body language.
Nikoolkan and his partner use their chat sessions to talk about their days, what life is like where each lives and the kinds of things his partner might expect when he arrives in Williamsburg.
"Despite our age differences -- I'm an undergraduate student and he is an incoming graduate student with a wife and child -- we are comfortable talking about many different topics in regards to cultural differences and the observations we may have about each other's culture," noted Nikoolkan.
For many of the international students, learning about American culture is just as important as having the opportunity to practice their English language skills.
Amornsri Charuvajana, an incoming Mason School of Business student from Thailand, had already attended an exchange program in America prior to deciding to come to William & Mary. "I have some American and international friends, however I still want to meet new people, get to know them, exchange culture with them and finally become good friends."
Lori Caruso, an incoming exchange student from Australia, echoed these sentiments. "I hope to gain a bit more insight into American life and culture – especially life as a student at William & Mary."
With the help of the program's IDEA grant, all Virtual Conversation Partners will come together in the fall for a celebration dinner. At the end of June, Jingzhu Zhang will present Developing Intercultural Communicative Competence: Virtual Conversation Partners Program at the Colonial Academic Alliance 2012 Global Education Conference at Towson University.