IDEA grants support diversity efforts at W&M
The William & Mary community received assistance in supporting underrepresented groups on campus this semester, thanks to a new set of grants.
The Office of Diversity and Community Initiatives at William & Mary awarded three Innovative Diversity Efforts Awards (IDEA) grants for the first time last fall. This semester, the three projects supported by those grants began or expanded their outreach efforts.
The three projects supported by the grants include: The Safe Zone Program, led by Assistant Director of the Center for Student Diversity Margie Cook and Kim Green '13; The Virtual Conversation Partner Program, led by graduate student in the School of Education Jingzhu Zhang '14; and multicultural science education, led by Jerome Carter '12.
Safe Zone
The Safe Zone Program actually began in 1998; however, it went dormant in recent years. Last semester, Cook and Green revived and redesigned the program, which offers a workshop to provide a visible network of support for the lesbian, gay, bisexual and transgender (LGBT) community.
The two-hour workshop includes activities to help people understand the experience of being lesbian, gay, bisexual or transgender and how it impacts a person's life. In addition, the workshop explores the idea of heterosexual privilege and the connection between sexual orientation and gender roles. Participants in the workshop receive buttons to wear and door placards to place in their offices or dorm rooms to signal their support for the LGBT community.
During the fall semester, the program hosted five workshops with nearly 100 participants, including faculty, staff and students. In the spring semester, the program hosted three workshops with about 70 participants.
"And we still have a waiting list going," said Cook.
The response from campus has been tremendous, she said.
"We're super excited, and it was just really clear that there was a backlog of people who were waiting for the program and the opportunity to do the workshop, and once word got out, it really became a very popular opportunity," she said. "We were thrilled that so many people wanted to visibly show their support."
The program's website includes a list of about 227 people who have completed the workshop – including those who were trained prior to this year.
"We about doubled the number of volunteers on campus, so we're very pleased with the re-launch of Safe Zone," said Cook.
Cook said that the visible sign of support is something that prospective students and their parents are looking for on campuses.
"It is a need that's out there and an important message for us to send and reinforce that all members of our community are welcomed and supported," she said. "We especially want to make sure that our LGBT students know that."
Virtual Conversations
The new Virtual Conversation Partner Program pairs American students with incoming international students. The pairs of students will converse over Skype during the summer so that the international students can not only practice their English language skills but also get an introduction to William & Mary from students already on campus.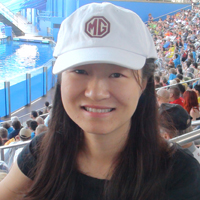 Zhang said that she first considered using blogs for the program.
 "But later on, I realized that there is a big disadvantage of using blogs," she said. "Even though you can practice reading and writing, it doesn't really facilitate listening comprehension and spoken English. The spoken English part if a major obstacle for international students."
Though Zhang originally estimated that about 20 American students and 20 international students would participate in the program, she has received an overwhelming amount of interest and now expects a total of about 200 participants, she said.
Zhang held an orientation for the American participants on April 3. The event included sessions on strategies for being a language partner, potential issues and a question-and-answer session with former conversation partners.
"(American students) know exactly why they want to participate," Zhang said. "They want to help international students adjust to the new life, but also they realize they can benefit, as well. Being able to talk to someone who is from another country about cultural differences is simply wonderful."
For Zhang, whose research focuses on barriers to international students in the United States and intercultural communication, the program is a dream fulfilled.
"I always wanted to do something with international students because I was one of them when I first came here a long time ago," she said.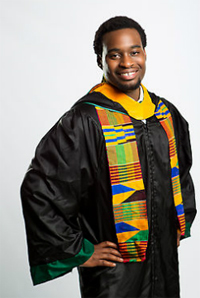 Multicultural science education
Carter, who is majoring in neuroscience and Africana studies, focused his honors thesis research on college programs that have increased the underrepresented minority rate within STEM majors. He put that knowledge into action this semester, offering workshops to students of color in STEM majors.
The workshops focused on study skills, class selection and course-load navigation. In addition to hosting the workshops, Carter met with some students individually, providing peer academic advising.
He also came up with a creative way to encourage those students.
"To complement the academic side, I wanted to do something artistic that could serve as a form of encouragement for current students and future students, so I recorded (on video) alumni who are either in STEM fields now or who graduated in STEM majors from the College of William & Mary," he said.
Carter filmed six different alumni for the video, which he previewed on the day of his honors thesis defense at the end of April. However, he plans on filming more interviews throughout the year.
The graduating senior, who plans on pursuing a career in medicine, said that he hopes his work helps STEM programs at William & Mary become more culturally competent "in that they meet the needs of all students."
"With the College increasing the diversity of the student population, there need to be programs that reflect that inclusivity and reflect the cultures of the diverse populations that the College admits," he said.
Carter, whose research was supported by the W&M Scholars Undergraduate Research Experience (WMSURE) program, said he wanted to pass the knowledge and skills that he's acquired to students of color in STEM majors because of his personal experience.
"My biggest thing is since no one was there to do this for me -- and especially since I was a shy person during my freshman and sophomore years -- it would be selfish of me to withhold this information," he said.