W&M No. 1 in service, 10th overall in Washington Monthly ranking
It's the season of rankings and the good news keeps rolling in for William & Mary. The College has been ranked number one for service and 10th overall among national universities, according to a listing released by
Washington Monthly
today. Over the weekend,
Parade Magazine
also listed the College among its "A List" for top small state schools.
Washington Monthly's annual guide to colleges, which ranks schools according to their research, service, and social mobility, lists William & Mary at 10th among national universities. When the list is
sorted
according to service scores, William & Mary comes out at number one. The College was ranked at eighth overall last year and 23rd in last ranking by the magazine before that (2007).
"We are pleased that Washington Monthly produces an indicator of our commitment to encouraging students to be actively engaged in their communities after graduation," said Drew Stelljes, director of community engagement and co-director of the
Office of Community Engagement and Scholarship
. "It is a source of great pride that our alumni are working across the globe to build partnerships aimed at addressing need. We work hard to provide students the ability to do just that."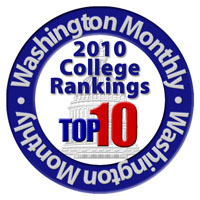 Additionally, Parade Magazine listed the College as one of the best small state schools in its "College A-List." For its listing of top state-supported schools, Parade asked high school counselors to recommend "outstanding schools that often fly under the radar." According to one counselor: "William & Mary has a fabulous confluence of academic life, social life, and student/faculty interaction. The students are bright, engaged and look to make the most of their experience both on and off campus. One of the best colleges in the U.S. period, never mind for the cost."
The news comes just a week after U.S. News and World Report announced its annual college rankings, in which William & Mary was listed as sixth among public universities, 31st among national universities and fifth on the magazine's list of universities with a strong "commitment to teaching." The College was also ranked at 30th on a list of picks by high school guidance counselors, and William & Mary's undergraduate business program was named as 24th among public universities and 42nd overall.
Also this month, Forbes listed William & Mary as the second highest state-supported school and 46th overall in its annual college guide. Additionally this year, the Princeton Review praised William & Mary's faculty, libraries and undergraduate happiness level in its annual college guidebook. The Review listed William & Mary at 12th in the "Happiest Students" category, up two spots from 14th last year. Additionally, the College ranked eighth in both the "Professors Get High Marks" and "Best College Library" categories. The College's "green rating" also improved, climbing from a 90 last year to a 93 this year.
The College was also honored earlier this year for its commitment to service when the school was named to the President's Higher Education Community Service Honor Roll with distinction. William & Mary is the only institution of higher education in the Commonwealth of Virginia that earned the "with distinction" placement on the listing.