W&M named to Community Service Honor Roll with distinction
The College of William and Mary has been named to the 2009 President's Higher Education Community Service Honor Roll with distinction. William & Mary is the only institution of higher education in the Commonwealth of Virginia that earned the "
with distinction
" placement on the listing.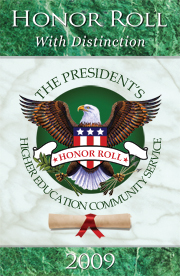 The honor roll is the highest federal recognition a college or university can receive for its commitment to volunteering, service-learning and civic engagement. The Corporation for National and Community Service oversees the Honor Roll in collaboration with the Department of Education, the Department of Housing and Urban Development, Campus Compact and the American Council on Education.
"The honor roll assesses the scope and innovation of service projects, student participation in service and the extent to which the school offers academic service-learning courses," said Drew Stelljes, director of community engagement for the
Office of Community Engagement and Scholarship
. "That William & Mary is counted among the select few that received the designation 'with distinction' is evidence of our long-term and deep commitment to working alongside communities near and far."
The Corporation, which administers the annual Honor Roll award, recognized more than 700 colleges and universities for their impact on issues from poverty and homelessness to environmental justice. On campuses across the country, thousands of students joined their faculty to develop innovative programs and projects to meet local needs using the skills gained in their classrooms. Business students served as consultants to budget-strapped nonprofits and businesses, law students volunteered at legal clinics, and dozens of others organized anti-hunger campaigns.
"Congratulations to the College of William & Mary and its students for their dedication to service and commitment to improving their local communities," said Patrick Corvington, CEO of the Corporation for National and Community Service. "Our nation's students are a critical part of the equation and vital to our efforts to tackle the most persistent challenges we face. They have achieved impactful results and demonstrated the value of putting knowledge into practice to help renew America through service."
The Honor Roll includes six colleges and universities that are recognized as Presidential Awardees, with an additional 115 named to the Distinction List and 621 schools named as Honor Roll members. Honorees are chosen based on a series of selection factors including the scope and innovation of service projects, percentage of student participation in service activities, incentives for service, and the extent to which the school offers academic service-learning courses. Click
here
for a full list of Honor Roll recipients.
William & Mary students are highly involved in service and service-learning activities. According to the most recent survey, the College's students contribute more than 300,000 service hours per year in a variety of areas.
"Each year, William and Mary students tutor hundreds of children and adults, build and repair houses, and throughout, learn about social, political and economic systems that contribute to poverty and inequity," said Stelljes.
This year, William & Mary's application for the honor roll highlighted the work of the
Law School's
Veterans Benefits Clinic
, the
School of Education's
New Horizons Family Counseling Center
,
service-learning
classes and
OCES activities
among others, said Stelljes.
The work of three
AmeriCorps VISTA
volunteers was also key to the success of the College's service efforts this year.
"The addition of three VISTA volunteers allows our programs to gain in strength and reach, beyond the work we are currently doing," said Melody Porter, assistant director of OCES. "Even while so many students are already involved in service, we constantly find that many more students are looking for ways to volunteer and contribute to anti-poverty work. Developing these programs allows us to work in deeper cooperation with community partners, and allows us to serve more meals, develop community assets and engage more volunteers on a regular basis."