The statistics are staggering; staggeringly good.

Between 80 and 85 percent of William & Mary students are involved with the College's recreation program, which includes 45 club sports, intramurals, fitness and wellness, out
door trips, aquatics and informal recreation.

The amount of space W&M devotes to recreation and club sports has almost doubled since Linda Knight took over as director in 1999, thanks in large part to the 97,000-square foot Student Recreation Center that opened in 2006. The building, which is open more than 100 hours a week, sees an average of 800 visitors daily, with a one-day record of 1,600.

 Likewise, the budget has doubled. So has the size of her staff.

"It's not me," Knight said modestly. "It's the support of the administration and commitment of the recreation sports staff; I've just been fortunate to lead that effort."

A recent gift of $1 million from Bee McLeod '83, M.B.A. '91 and Goody Tyler will help keep things running smoothly – and ahead of the curve. All but $100,000 of it will go into an endowment that will be tapped to keep equipment in prime condition, no mean feat. The rest will be available in equal increments the next three or four years while the endowment grows.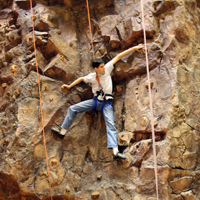 Knight hopes to use about $8,000 from this year's stipend to purchase an environmentally friendly treadmill. The treadmill has a battery, but uses no electricity, and is self-propelled. She hopes to have it here in time for the fall semester.

"It'd be a nice way to honor (McLeod and Tyler)," Knight said.

Other than that, 2010-11 looks like a year for Knight and a talented, dedicated staff of 11 professionals and close to 200 student staff members to continue doing what has obviously worked so well. That means hosting a "Late Night" during orientation so that incoming students are exposed to what's available to them, followed two nights later by an activities fair. 

It means pointing people to their website. It means bringing the message into residence halls and asking groups of students to recruit new students or, hopefully, student teams for intramural competition. It also means keeping a certain portion of the facilities available for the student who just wants to work out by himself, or play a little pickup basketball. That's not a priority at many colleges.
"With the Rec Center, they make it really easy to use," said Stephanie Bomberger '10. "It's right on campus, you don't have to travel. They have really great hours, especially during the school year. You can go early in the morning or up till 11 at night, which is great. It's an outstanding facility. The equipment is better quality than you see at some of the high-level gyms that you pay a bajillion bucks a month to go to."

Knight plans  to expand the unique and increasingly popular "Pathways" program, where a select number of incoming freshmen go on a three-day outdoor trip in what Knight calls "a life lesson for college."

"They're going into an area they're not familiar with, with people they don't know," Knight said. "It's very much like what happens when they step onto a college campus for the first time."

In the fall, the biggest challenge will likely be finding space and time for more than 90 flag-football teams, even if it means scheduling games for 1 a.m. Football is one of seven intramural sports that attracts more than 550 teams and more than 6,000 participants -- indoor and outdoor soccer, court hockey, softball, volleyball and basketball are the others.

The 45 club sports encompass everything from badminton and ballroom dancing to wrestling and yoga. The baseball team advanced to the World Series, and won its opening game against Rice, before being ousted. Cyclist Cory Scott '10 won the Division II Collegiate National Men's Road Race in May. The women's rugby team won the state championship.
John Reynolds '12 figured any college he'd attend would "have a gym -- although I didn't know this one would far surpass the one I have at home in Fredericksburg, Va." But Reynolds, a high school wrestler, was looking for a club rugby program to join, and W&M offered the perfect option.
"That definitely had an impact on picking this school," Reynolds said. "Some of the other schools I had in mind didn't exactly have great rugby teams  -- or they had really great rugby teams that were beyond my ability."
Knight makes it clear that there's more to the club programs that just playing games.


"We really work on the student development piece of every program we run," she said. "It's not just, 'OK, you're going to play ice hockey. . . ' We really work with the officers to give them leadership opportunities, to learn different skills that they can take to their next job. We're helping them understand many life skills such as commitment and teamwork."

In good weather, there are outdoor activities scheduled for every weekend. Students can go whitewater rafting, hiking, caving, enjoy a moonlight paddle on Lake Matoaka, even learn how to make perfect S'mores.

Year-round, there's the Fitwell program, offering classes in body pump, yoga, pilates, stretching class, aerobics class, and spinning class. There are more than 50 classes a week, and it's one of the best deals on campus. Students buy a fitwell pass for $75 for the year and attend as many classes as they want, all taught by certified instructors. Last year, more than 1,000 students bought passes, indicative of the rampant interest the overall program has generated.

"We put on quality programs, no question," she said, "but what's important is that the students want to participate. If it weren't for them, we could put on a quality program, but if nobody came it wouldn't matter."

Some say that the academic strain that comes with studying at W&M leads students to use exercise as a stress-reliever. Knight doesn't disagree, but adds there's something more elementary going on.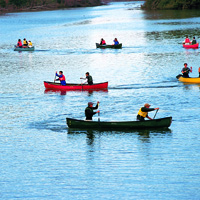 "Our students come here with a lot of different passions – their studies, community service, they're passionate about everything they do and this becomes one of those passions," she explained. "It's the type of student we get here; they're very active, want to be involved in a lot of different things, and this is a great avenue for involvement."
Reynolds said he doesn't view exercise as "blowing off steam."
"I look at going to class and working out the same way," he said. "You feel productive when you do them."