W&M as a liberal arts university: the conversation has begun
Four panelists and a highly engaged audience tore into it for 90 minutes on Oct. 29, albeit with velvet gloves. The result was a penetrating introduction to an issue William & Mary will spend the year examining from a multitude of angles, headed by Provost Michael Halleran.
The opening session, held at Tidewater A, addressed the fundamental question "Is a liberal arts university possible in the 21st century?" It's the first of many questions to be addressed as the College community spends the next months discussing in detail what it means to be a liberal arts university.
Determining an answer is vital to the College's
strategic plan
. It's why Halleran is pursuing a comprehensive, all-inclusive dialogue. It's why there is a website devoted to the
conversation
, and why all are invited to read, participate and opine.
"William and Mary has an uncommon identity," Halleran told more than 150 faculty, staff, students and alumni, each of whom seemed to enter the Sadler Center with an opinion. "We are a medium-sized public institution with an intense core of undergraduate liberal-arts education offered in the context of select graduate and professional programs. Few schools self-define as being a liberal-arts university . . . Most of those that declare themselves a liberal arts university look quite different from the way we do . . . Our future success will depend in no small measure on how we choose to balance effectively this special blend of teaching, research, liberal arts and professional programs, undergraduate and graduate education . . . There are many voices in our community . . . "
Halleran chose four distinct faculty voices to kick off the discussion. They began by tackling whether or not the College could -- or should -- even define itself in such a way. In varying degrees, panelists
Joel Schwartz
,
Leisa Meyer
and
Herrington Bryce
argued yes.
Keith Griffioen
argued a vehement no.
Schwartz, director of
Charles Center
and dean of honors and interdisciplinary studies, began by introducing a practical angle to the discussion. Although "liberal arts" and "university" may be compatible (but not ideal), "even quite wealthy schools like the University of Chicago and Columbia find it hard to keep their attention on both sides at one time. That's more of a resource question than an intellectual one." (That would lead one audience participant to later offer that, "We could define ourselves a lot easier if we had some money!" No one argued.)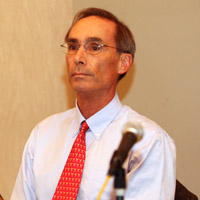 Schwartz unveiled what he called a "very traditional" explanation of liberal arts – helping students prepare to live worthy lives as humans and as citizens, as distinct from preparing them for careers or professions or positions. However, those who claim that research is the province only of graduate schools and students have missed the boat.
"To me, it's a means – one of many – to a liberally educated citizen," he said. "Research is something valued at the undergraduate level, and something we can bring out and emphasize that will accomplish very traditional liberal-arts goals. It is something we can focus on that will bring us together in a shared mission."
Griffioen, a professor of
physics
, contended that, "William and Mary is not a liberal arts university, and we should immediately stop describing ourselves this way."
He categorized liberal arts universities as typically having 2,000 students. They achieve university status by offering Masters degree programs in subjects such as business, education, fine arts and theology. Half of those he pointed to were men's Christian colleges, or institutions such as the University of Dallas, UNC-Ashville and Concordia University.
"Not really us," he concluded. "So I look at Stanford and Princeton. Both have undergraduate populations commensurate with ours. But as modern universities, they also have an equivalent number of graduate and professional students. Each emphasizes the liberal arts within the undergraduate curriculum, but at the same time their scholarship and research make them two of the top institutions in the world when it comes to discovery and understanding and leadership in a complex technological society."
Griffioen argued that W&M is unique, so much so that labeling it only serves to limit it.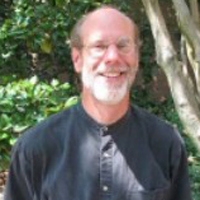 "We are truly a place where faculty can combine a life of stellar teaching and world-class research for the benefit of all our students, from freshmen to post-doctoral scholars . . . Why would we want to align with one side or another? We like to call ourselves unique; if so, then we don't need to have somebody else's title.  . . We need to be focused on how each school can reach its full potential as a home for the world's best teacher-scholars. Here the liberal arts play a role, but they are not the whole story."
Meyer, associate professor of
history
and American studies, claimed that William & Mary answered the question of whether a liberal arts university was possible in the 21st century every day.
"Our reputation is for excellence in teaching but also excellence in research," she said. "Several of our graduate programs are ranked among the top ten universities. In other words, faculty and students are already engaged in learning as well as discovery."
The Carnegie Foundation already classifies the College as a research university, Meyer explained.  Typically, one fifth of W&M students are either in graduate or professional programs. One third of the degrees awarded are for work carried out in graduate or professional programs.
"So the graduate or professional programs enhance the college's reputation as a center of learning," Meyer said. "They help us to attract outstandingly creative faculty. They help faculty attract considerable research funding. Graduate professional programs are already a part of our college. The question now is how are we going to do better by them and more fully link the graduate and undergraduate professional programs to one another and to the broad mission of the institution?"
Finally, Bryce, Life of Virginia professor of
Business
, recommended that instead of peering out the window at other schools, W&M should look in the mirror, and inside itself.
"My emphasis is on William and Mary as a community," he said. "What shall the community be? How shall the players in that community interact with the objectives of growing and serving? Answering and exploring these types of questions will guide our modus operandi. The answers will rationalize our curriculum and how we deliver courses.
 "I do not think the curriculum is the issue. It's going to be constant, from here to there, for a very long time. The core curriculum is not fundamentally different from what it was in medieval times. But we can tweak it; it's not the curriculum, it's how you teach the curriculum. The community defines the area in which learning takes place and growth takes place."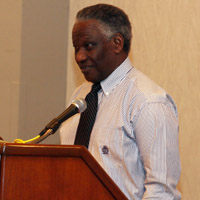 Following the forum, Halleran commented on the strong and engaged interest in the topic across campus. While not everyone agrees whether 'liberal arts university' is the best name, he said, there appears to be an underlying consensus that William & Mary combines broad learning and research distinctively.
"Now we need to parse this combination with greater specificity," Halleran said. "And we'll have the chance to do that during our year-long conversation—both in the 'formal' events and in the many smaller conversations that I believe will ramify across the campus."