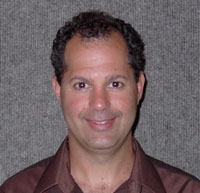 Salvatore Saporito
Professor
Office: Boswell Hall 211
Email: [[sjsapo]]
Research Areas: Spatial Inequality, GIS methods
Office Hours: Tuesday/Thursday 9:00 a.m.-12:00 p.m. or by appointment.

Education
Ph.D. Temple University
Areas of Specialization
Sociology of education, stratification, racial and economic segregation, human geography, and areal interpolation methods
Honors and Awards
Jennifer and Devin Murphy Faculty Award, 2009-2010
Background
Professor Saporito researches how and why family choices for private and magnet schools contributes to racial and economic segregation in neighborhood-based public schools. He employs GIS mapping software and statistical modeling to compare populations of students living in school attendance boundaries with populations of students attending the public schools serving those boundaries. Since segregation levels are related to school quality, understanding the social forces that sustain and exacerbate educational inequality are of fundamental importance. His research has been published in  Social Forces, Social Problems, Sociology of Education, Social Science Research, Urban Affairs Review, and Applied Behavioral Science Review.