Undergraduate Journals at the Department of Religious Studies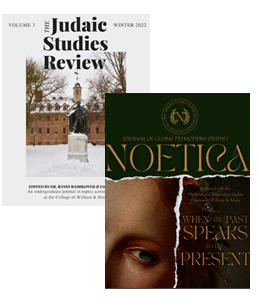 The Department of Religious Studies is proud to be the home of two program-specific undergraduate research journals: The Judaic Studies Review: An Undergraduate Journal in Topics Across the Field  and Noetica: Journal of Global Premodern Studies. The former is affiliated with the Program in Judaic Studies, and the latter with the Medieval and Renaissance Studies Program. Both journals are excellent ways for students to embrace the strong tradition of undergraduate research that is so essential to the academic community at William & Mary.
 The Judaic Studies Review is an undergraduate journal co-edited by Jack Boyd and Dr. Randi Rashkover. The journal's publications constitute essays on diverse topics, including Jewish political life, the Shoah, Jewish education, Jewish-Christian relations, Judaism and the Spanish Inquisition, Judaism and modern philosophy, Judaism and gender, and Judaism and race. The journal also publishes reviews of the various speakers that the Program in Judaic Studies brings to campus in order to keep its readers well-informed of ongoing events. The Program in Judaic Studies looks forward to publishing many future issues of the journal, and is proud to share the work of its contributors to date with a wide audience of readers. 
Founded by students, Noetica is a peer-reviewed research journal that encourages contributors to submit papers that bridge the gap between the past and the present, drawing connections across eras. Its motto is Eruditio Flumen Vivendi, or 'Knowledge is the Flow of Living'. Noetica's upcoming edition, which is scheduled for April 2023, will feature articles on political, historical, anthropological, religious, and economic issues linked to both the past and present. Contributors to this edition hail from universities across the U.S. and abroad. The journal is ably superintended by editor in chief Terry Flannery, submissions editor Jacob Conrod and faculty advisor Dr. Alexander Angelov.