Lions and tigers and pastors: Dr. Nicole C. Kirk lectures on American religion and the circus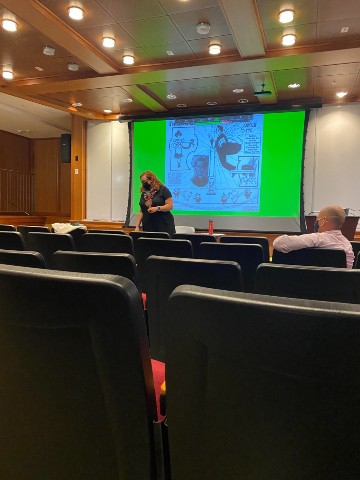 In 1903, Methodist preacher Rev. William Sheak ran away with the circus. His decision sparked an uproar in American Christian communities and infused new energy into the entertainment enterprise. During his time on the road, Sheak served as a menagerie lecturer, wrote extensively about zoology, and officiated a wedding on the back of an elephant. 
On Monday night in the Tucker Theater, Dr. Nicole C. Kirk delivered a lecture about American Religion and the circus. Dr. Kirk is an associate professor at Lombard Meadville Theological School in Chicago, where she holds the Frank and Alice Southworth Schulman Chair of Unitarian Universalistic History. She is also a member of the American Academy of Religion Board. Her first book, Wanamaker's Temple: The Business of Religion in an Iconic Department Soul, was published by NYU Press in 2018. 
Dr. Kirk's talk took a group of W&M students and faculty back in time to the early 1900s when railroads were transforming society's perception of time and space. The circus's widespread success was a byproduct of train networks that crisscrossed the nation. Sprawling companies that featured lions, tigers, bears, and awe-inspiring humans took the country by storm at the start of the new century. While Protestant churches opposed the "questionable moral activities" associated with the circus, performers and workers cultivated a rich spiritual life all their own. Dr. Kirk's lecture explored how life on the road and in the ring shaped religiosity. She provided a portrait of a diverse, close-knit community, unbound by social convention, extremely vulnerable to tragedy, and deeply engaged with its past.