Public Policy Research Leads Sean Nguyen '25 to Mongolia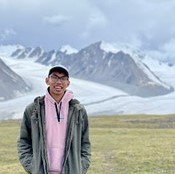 One never knows where—or how far—an interest will lead. 

For Sean Nguyen '25, a passion for cross-cultural communication and public policy led to a life-changing trek through Ulaanbaatar, Mongolia, and rural provinces for nine weeks this past summer. 
Nguyen worked alongside mentors at the Sant Maral Foundation—a premier public opinion research and polling institution in Ulaanbaatar—to help in their groundbreaking surveying that "revealed emerging trends on themes like food insecurity, mental health hesitancy, political approval, income disparities, and more," he reported. 

The lessons Nguyen learned in the field have long-term implications, both for the communities with whom he collaborated and for his own academic and career paths.  He explained, "In the future, as an aspiring policymaker, I could leverage findings like that to shape my perspectives and ensure that policy is data-driven rather than anecdotally based."

Nguyen was one of 15 William & Mary students who were awarded Freeman Intern Fellowships in Asia in Summer 2022 through a program jointly managed by the Reves Center for International Studies and the Charles Center for Academic Excellence. 

Students received stipends of at least $6,000 for the 8-to-10-week internships and were placed in research positions in 9 different cities in East and Southeast Asia, including Bangkok, Manilla, Seoul, and Tokyo.
Nguyen's interest in Mongolia began in the classroom at W&M and then grew through an investigation of online literature on Kazakh coexistence with other Mongolian ethnic groups accessed through Swem Library and the American Center for Mongolian Studies. 

But it was Nguyen's journey from Ulaanbaatar to the countryside in Bayan-Ölgii, a 32-hour bus ride on unpaved roads, that brought home the realities of everyday life in rural Mongolia.  In Bayan-Ölgii, Nguyen said, "I was embraced by the Mongolian-Kazakh community, in which they shared their homes, food, entertainment, and above all, their hospitality.  They took me to beautiful natural and physical sites which I would otherwise never have seen if only studying this material digitally."

Where will your interests take you?  Learn more about the 2023 Freeman Intern Fellowship.