Masters of Public Policy Students Present at Spring Research Symposium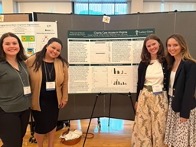 On Friday, March 31st, Masters of Public Policy (MPP) students presented their Policy Research Seminar (PRS) project at the W&M Graduate & Honors Research Symposium. Students in the 2nd year MPP cohort, Hannah Garfinkel, Jennifer Hundley, Maggie Decosse, and Julia Grabo, along with the help of their undergraduate research assistant Jenny Gerson, presented their findings to students, faculty, and staff. 
The project partner was the Lackey Clinic, a local medical provider of free and charitable health care for patients at 300% or below the Federal Poverty Level (FPL), the project examined the gap between patients covered by the clinic and those who live 200% below the poverty level whom hospitals are mandated to provide care for. 

The Lackey Clinic can provide many services but not the tertiary care that hospitals can. The state of Virginia's Certificate of Public Need (COPN) law makes it mandatory for hospitals to provide charity care services to patients who live under 200% of the Federal Poverty Level, yet the Lackety Clinic provides services to those under 300%, leading the Clinic to be interested "in learning what effect it would have to increase the COPN charity care eligibility from 200% to 300%" Garfinkel said.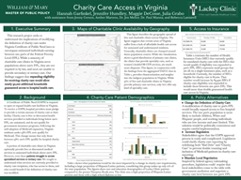 The students examined this gap by using quantitative analysis of Virginia state survey data and demographics to analyze the populations currently receiving charity care and how many uninsured people are in different income brackets. The students used these quantitative data alongside qualitative information from GIS mapping and interviews with stakeholders of the COPN system to develop new policy recommendations, including changing the definition of charity care and increasing regulation of the sector to decrease systematic doctor loopholes. Grabo explained how doctors can double count their debt as both "losses and charity care in a form of double dipping," through a loophole that the group argued against in their analysis.                                                                                               
The group explained how this project was an amazing learning experience. Hundley noted that they got to "balance what the company of the Lackey Clinic was looking for and the use of our own academic skills." The students collaborated through group meetings which they called "standups" where the members would dedicate themselves to certain tasks and assign final goals.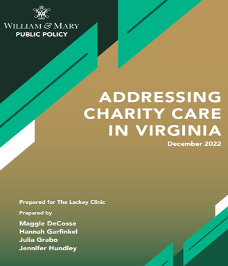 DeCosse reflected on the overall lessons she learned by explaining "I really learned how to collaborate not only with my peers but also with a company in the policy world. It was a once-in-a-lifetime opportunity to focus on client communication and my own writing skills to gain real experience." 
All the students explained how they gained skills in client communication, data analysis, writing concisely, and group collaboration, getting the opportunity to apply both their hard and soft skills to a real-life problem. 
"Overall, Hannah, Jennifer, Maggie, and Julia completed an outstanding report," explained Paul Manna, Director of the Public Policy Program and Hyman Professor of Government. Manna co-taught the PRS class along with his colleague from the W&M Global Research Institute, Rebecca Latourell. "They did a terrific job mobilizing their skills and knowledge, bringing a truly multimethod approach to the work. It was a pleasure to work with them on the project last Fall, and even more exciting to see them continuing to engage with the topic this spring at the research symposium," Manna said. 
Click here to learn more and read the students' project.