How Technology Policy Can Address Human Needs
Every day it seems that advocates present a new technology promising to solve a challenging problem or make a current policy process more efficient. Why do those promises often fail to produce the results their supporters envision? How can policy practitioners design technological systems that serve people well without doing harm or wasting public funds? 
Recently, these questions and others produced lively discussions between William & Mary Master's in Public Policy (MPP) students and Emily Tavoulareas, a W&M alum ('04) and now Managing Chair of The Georgetown Initiative on Tech & Society. Her visit was co-sponsored by the Public Policy Program, the Global Research Institute, and the Digital Inclusion and Governance Lab at William & Mary. 
Tavoulareas began her visit with MPP students in their Applied Ethics class, a required course in the graduate curriculum. There she shared her experiences working with the US Digital Service where she and her team helped stand up major new systems at the US Department of Veterans Affairs (VA). Prior to her work, those systems had poor functionality and failed too many veterans across the country.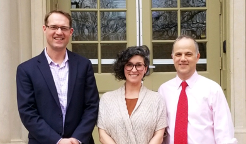 Interestingly, as Tavoulareas emphasized, one of her team's most powerful contributions wasn't the eventual technological fix they proposed, but rather the approach they took to solving the VA's problems. That approach, grounded in principles of human-centered design, put veterans themselves, rather than technology, at the center of all discussions and data-gathering activities. Her team's goal was to "understand what people need, and then get it to them," she explained.
That message resonated with the MPP students, who all semester have explored the ethical assumptions, values, and sources of power that shape different policy settings.
"I really enjoyed how Ms. Tavoulareas explained the difficulty of incorporating technology into policy work, and shared her applied experiences of enhancing user experience and interfacing in the VA," said Hannah Garfinkel, a second year MPP student. "It was inspiring to hear how her empathy-driven approach actually helped people on the ground."
Garfinkel's student colleague in the class, Jennifer Hundley, also a second year MPP, agreed and noted how the class discussion pushed her to re-imagine what it means to use data to inform policy decisions. "The opportunity to hear from Ms. Tavoulareas was inspiring. Learning how she has continually challenged the policy space, and pushed to incorporate human-centered design across sectors challenged my own perception of policy research." That was more than simply an interesting classroom lesson for Hundley, who further explained that "Moving forward, I hope to continually apply her insights on ethical and intentional data collection into my personal work."
In addition to visiting the Applied Ethics class, later that day Tavoulareas led a lunch-time discussion with William & Mary campus leaders about her work at Georgetown, providing insights for how to create and develop cross-unit collaborations on campus. That evening she gave a public lecture entitled "Is There an App for That? Challenges to Ensuring Technology Works in the Public Interest" where she expanded upon themes that had surfaced earlier in the day. The following morning she recorded a podcast interview as part of W&M's ongoing exploration of democracy, a core theme of the university's Vision 2026 initiative.
In all it was a fruitful and inspiring visit . . . exactly what we'd expect to get from a W&M alum!