Career Services and Placement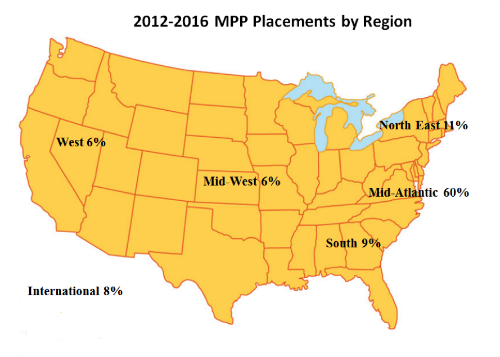 One of the benefits of the small size of the W&M Public Policy program is that we can offer tailored career and placement services to each of our students. Elaine McBeth, Associate Director of the Program, runs our career services program. Throughout your time in the program she, working alongside professionals from the Cohen Career Center, will help you with general career planning and professional development and will guide your internship and job searches.
In addition to this one-on-one career planning service, we offer the following professional development opportunities:
Our Alumni Mentoring Program matches incoming MPP students with distinguished mentors from our alumni community and board of advisors. Mentors provide a valuable service to their mentees, helping them identify realistic professional goals, develop a plan for achieving those goals, and understand how to thrive in a competitive professional environment. All incoming students are strongly encouraged to participate in this voluntary program.
Professional Development Workshops are held throughout the academic year to help students build professional skills. These workshops include Mock Interviews with our Board of Advisors, Resume Critiques, and the always popular Etiquette Dinners.
The program also offers a wide range of Networking Opportunities both on and off campus including alumni receptions in D.C. and Richmond, cocktail parties with our Board of Advisors, and opportunities to meet a wide range of policy professionals through our Policy Dialogues.
Where do W&M MPP students end up?
Our program prepares students to excel in policy positions that require superior analytical and quantitative skills. There is a strong and growing market demand for the quantitative skills that we offer in our program. While much of this demand comes from various levels of government, there is also a strong demand for public policy master's students in the private sector. Additionally, many large regulated firms (e.g., financial institutions, public utilities, pharmaceuticals, and firms in the transportation and communication sectors) have divisions that require the skills of a public policy analyst. Consulting firms and the non-profit sector are two other major employment opportunities commonly open to public policy analysts.
William and Mary's locational advantages (proximity to Washington, D.C., Richmond, Norfolk and several medium-size cities) contribute to our effectiveness in placing graduate students into internships and creating a network for future employment. Students in our program have access to thousands of William & Mary alumni in the public policy arena who can also serve as resources for career advice and networking. Because of our outstanding alumni, the William & Mary name carries great prestige and recognition.
Jobs of Recent W&M Public PolicyStudents