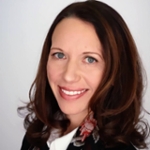 Danielle Dallaire
Professor
Office: Integrated Science Center, Room 1143
Phone: 757 221 3884
Email: [[dhdall]]
Webpage: {{http://www.wm.edu/as/programs/healthy_beginnings/}}
CV: {{http://www.wm.edu/as/psych-sciences/documents/cvs/dallaire-cv-jan-2023-pdf,pdf}}

Educational Background
BA 1997 The Pennsylvania State University, Psychology
Ph.D. 2003 Temple University, Developmental Psychology
Research Interests
Danielle Dallaire is a Professor of the Department of Psychological Sciences at The College of William & Mary. She earned her B.A from the Pennsylvania State University in 1997 and her doctorate degree in developmental psychology from Temple University in 2003. Her research examines children's development in the context of the multifaceted stressor of parental incarceration.  Her research has been supported by grants from the National Institutes of Health, the W.K. Kellogg Foundation, the Anthem Foundation, and the March of Dimes. In 2018 she was named as a Fellow of the Association for Psychological Science for sustained and outstanding distinguished contributions to psychological science. Professor Dallaire is interested in understanding children's thriving despite exposure to risk and programs that support individuals, families, and communities that support children's success. 
Selected Publications
Traver, J. Dallaire, D.H., Cauffman, E., Frick, P., & Steinberg, L. (2023). The reciprocal relations between 
well-being and maternal and peer warmth in adolescents involved in the juvenile justice system. Journal of 
Adolescence, 95(3), 401-412. 
Muniz, J. O., Corcoran, F., *Marzougui, J., Shlafer, R. J., Eddy, J. M., & Dallaire, D. H. (2023). Towards family 
preservation: A systematic jurisdiction analysis of prison visitation policies during the COVID-19 pandemic. 
Psychology, Public Policy and the Law.
Poehlmann-Tynan, J. & Dallaire, D.H. (Eds.). (2021). Incarcerated mothers and their children. Advances in Child 
and Family Policy and Practice, 
Monograph of Division 27 of the American Psychological Association. Springer.
Kelsey, C., Thompson, M. J..& Dallaire, D. H. (2019). Community-based 
service requests and utilization among pregnant women incarcerated in jail, Psychological Services. 
Dallaire, D.H., *Woodards, A., & *Kelsey, C. (2018). Impact of parental incarceration on neonatal 
outcomes and newborn home environments: A Case Control Study, Public Health, 82-87. 
Kelsey, C., Medel, N., Mullins, C., Dallaire, D., & Forestell, C. (2017). An 
examination of care practices of pregnant women incarcerated in jail facilities in the United States. 
Maternal and Child Health Journal, 21, 1260-1266.
* Reprints are available upon request
Courses taught at W&M
Developmental Psychology

Motivation & Emotion

Advanced Research in Developmental Psychology

Service-Learning in Developmental Psychology

Graduate Proseminar in Life Span Developmental Psychology

Psyc 150: The Psychological Study of Children & Families in Relation to Law and Policy