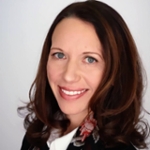 Danielle Dallaire
Professor
Office: Integrated Science Center, Room 1143
Phone: 757 221 3884
Email: [[dhdall]]
Webpage: {{http://www.wm.edu/as/programs/healthy_beginnings/}}
CV: {{http://www.wm.edu/as/psych-sciences/documents/cvs/dallaire-dh-cv.pdf,pdf}}

Educational Background
BA 1997 The Pennsylvania State University, Psychology
Ph.D. 2003 Temple University, Developmental Psychology
Research Interests
Broadly, my program of research examines children's social and emotional development in the context of risk. Since coming to William & Mary in 2006 I have actively researched how children cope with the multifaceted risk of parental incarceration. I approach the study of this issue from an attachment framework and am currently examining protective factors in this population which may help foster resiliency in these children. I am currently in the midst of an NIH funded research project which examines the emotional competencies of children with incarcerated mothers (1R21HD060104-01A2). Other ongoing projects examine children's reactions to contact with their incarcerated parent, the quality of prenatal care of fetuses of criminally-justice involved mothers,  and  the development of children's understanding of what "incarceration" means.  Other work examines children's temperament, attachment and depressive symptomology in the context of contextual risk.
Selected Recent Publications
Folk, J. B., Nichols, E. B., Dallaire, D. H., & Loper, A. B. (in press). Evaluating the content and reception of messages from incarcerated parents to their children.
Dallaire, D.H., & Zeman, J. (in press). Empathy as a protective factor for children with incarcerated parents. Monographs of the Society for Research in Child Development.
Dallaire, D. H. (2011). Using personal response "clicker" systems effectively in psychology courses.  Teaching of Psychology, 38, 199 - 204. doi: 10.1177/0098628311411898
Aaron, L., & Dallaire, D. H. (2010). Parental incarceration and multiple risk experiences: Effects on  family dynamics and children's delinquency. Journal of Youth & Adolescence, 39, 1471 - 1484. doi:10.1007/s10964-009-9458-0
Poehlmann, J., Dallaire, D. H., Loper, A.B., & Shear, L. (2010). Children's contact with their incarcerated  parents: Research findings and recommendations. American  Psychologist, 65, 575-598. doi:10.1037/a0020279
Dallaire, D. H., Ciccone, A., & Wilson, L. (2010). Teachers' experiences with and expectations of  children with incarcerated parents. Journal of Applied Developmental Psychology, 31, 281 – 290. doi:10.1016/j.appdev.2010.04.001
Dallaire, D. H., & *Wilson. L. (2010). The impact of exposure to parental criminal activity, arrest, and sentencing on children's academic competence and externalizing behavior. Journal of Child and Family Studies 19, 404–418. doi:10.1007/s10826-009-9311-9
Dallaire, D. H. (2007). Incarcerated mothers and fathers: A comparison of risks for children and families. Family Relations, 56, 440-453. doi:10.1111/j.1741-3729.2007.00472.x
Dallaire, D. H. (2007). Children with incarcerated mothers: Developmental outcomes, special challenges, and recommendations. Journal of Applied Developmental Psychology, 28, 15-24. doi:10.1016/j.appdev.2006.10.003
Dallaire, D. H., & Weinraub, M. (2007). Infant-mother attachment security and children's anxiety and aggression at first grade. Journal of Applied Developmental Psychology, 28, 477-492. doi:10.1016/j.appdev.2007.06.005
* Reprints are available upon request
Courses taught at W&M
Developmental Psychology

Motivation & Emotion

Advanced Research in Developmental Psychology

Service-Learning in Developmental Psychology

Graduate Proseminar in Life Span Developmental Psychology