Overview from the Department Chair
Over the past two years we've made a lot of progress in Ewell Hall, thanks to support from the administration – and thanks to the generous contributions from alumni, parents, and the Williamsburg community. We've updated the technology in our three busiest teaching spaces, purchased custom-made containers for valuable ensemble instruments (crucial to protect them during their frequent moves for concerts), and greatly impoved the appearance of our recital hall lobby with simple, elegant furniture. With your contribution – on its own, or combined with the contributions of like-minded supporters  – we will continue to make these kinds of investments in the Department of Music.  Thanks!
$1,000 would go a long way toward refurnishing our lobby and practice rooms.
$10,000 would fully equip two classrooms with current equipment and technology.
$50,000 would address all of our current needs: classroom facilities, instruments, ensembles, and furniture.
$75,000 would go a long way toward endowing the Ewell Concert Series.
Please read below to learn how your contribution can help address our areas of greatest need. You can contribute online to the Music Department account that funds our programs. If you'd like to contribute by check, please consult Ways to Contribute to make sure your gift is allocated correctly. If you'd like to discuss a particular kind of gift, I invite you to contact me at [[jcbart]].
 
Ensembles, Large and Small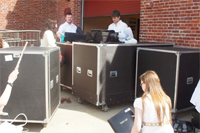 Each semester more than one-quarter of W&M undergraduate students participate in music courses, studio lessons, and ensembles, and thousands of music-lovers attend performances given by our students and faculty. Renting musical scores and parts, and purchasing, repairing, and maintaining instruments are only some of the unsung expenses involved. In 2013 we were able to purchase custom-built storage containers to move our instruments safely from one venue to another. Your support today will help us continue to bring live, high-quality music to the entire community.

Furniture, Space Planning, and Design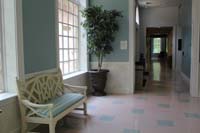 Recently our Music Library received a needed facelift, modern furnishings, and new shelving for our books and recordings – and the number of visits increased by 1,000 per month.  We also invested in simple, elegant furnishings for the lobby outside Ewell Concert Hall. We have plans to continue upgrading and maintaining our performance hall, practice rooms and studios, and public spaces to support the high level of academic and artistic achievement of our students and faculty. Your support today will help create an environment that reflects our activities, aspirations, and excellence.

Technology and Equipment Needs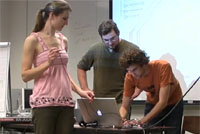 The 21st-century classroom must allow faculty, staff, students, and guest artists to take advantage of technology for teaching and learning. Over the past year, three of our teaching spaces were outfitted with audio-visual components and presentation technology. We still have several teaching spaces that are badly in need of modern equipment. Designing and installing appropriate technology always expands creative possibilities by allowing high-end recordings in-house and stretching ideas of what music performance and presentation can be. Your support today for technology in the classroom will help students push their creative limits. 

Pianos and Other Instruments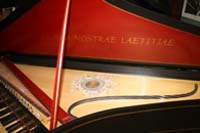 Along with instruments for our large and non-traditional ensembles, the department owns and maintains a fleet of 60 pianos, including a number of rare historical instruments.  We rely on an additional 20-30 instruments through a generous annual loan program.  Tuning, moving, restoring, or in some cases completely rebuilding pianos are among the regular maintenance costs in our budget. We are raising funds now to help pay for the beautiful 7-foot Steinway Grand Piano that we acquired from retiring voice instructor, Martha Connolly.  Your support today will help us complete the purchase of this wonderful piano.

Live Music Performances
We present the only campus series for the musical performing arts, the Ewell Concert Series. We also produce dozens of other live performances, often partnering with other campus academic units. Our students are exposed to artists of the finest caliber; our faculty enrich their teaching with guests from a wide array of traditions; and the entire community benefits from access to world-class performances. In 2013, for example, we co-presented with the W&M Confucius Institute a wide-ranging visit by the group "Music from China," which included a standing-room-only public concert. Your support today will help us continue to present a high caliber of programming.