One Tribe Day - Music Dept. Pipe Organ
Summary
One Tribe, One Day is just around the corner and we in the Music Department want to share that we have the opportunity to purchase a pipe organ for the new concert hall!
Full Description
This is exciting news because obtaining the organ will have a direct impact on hundreds of our music students. Not only will it be the first organ owned by William & Mary on campus, but it will also:
be a practice and performance instrument for students in the organ studio (currently all organ students make time to practice based on local church schedules and perform both juries and recitals there as well)
allow for organ accompanied works by choral groups in concert
allow for organ works with instrumental groups in concert (including potential Concerto Competition winners)
allow for combined works for choral and instrumental groups (both WMSO and WMWE)
present an opportunity for composition faculty and students to write for the instrument
Last spring, the W&M Choir and Botetourt Chamber Singers joined with the W&M Symphony Orchestra in a performance of Duruflé's Requiem.  We were graciously housed in the Williamsburg Presbyterian Church, but our forces were too large for the space. Now we have the chance to perform these kinds of concerts on our own turf, in our own building, with our own organ!!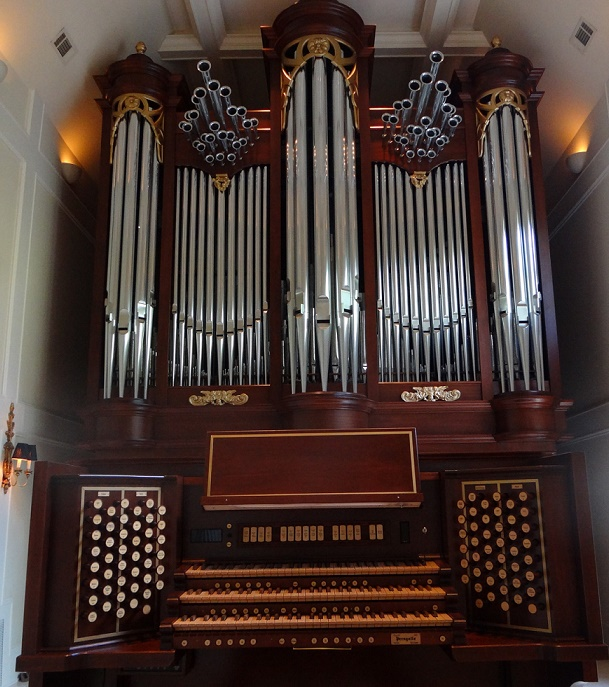 Here is a snippet of Bach's toccata in d minor played on the organ we hope to acquire: https://www.youtube.com/watch?v=9an-aN5o5WA
And, some Widor as well: https://www.youtube.com/watch?v=nEbV9t9a_dc
We need $300,000 for the Pipe Organ Fund – and so far, we are half way there, reaching $150,000! Uses for this fund include the purchase, storage, delivery, installation and maintenance of the organ. We know we can do this because we have alums like you who remember your musical experiences at W&M and want to ensure that current and future students have the same opportunities. Would you consider making a OTOD donation to the Pipe Organ Fund?  Click on this link Pipe Organ Fund to be a part of this exciting opportunity!
Thanks in advance for your consideration and generosity.
Warmly,
Dr. Jamie C. Bartlett
Department of Music, Chair