Post-Baccalaureate Program in Classical Studies
Post Baccalaureate Program in Classical Studies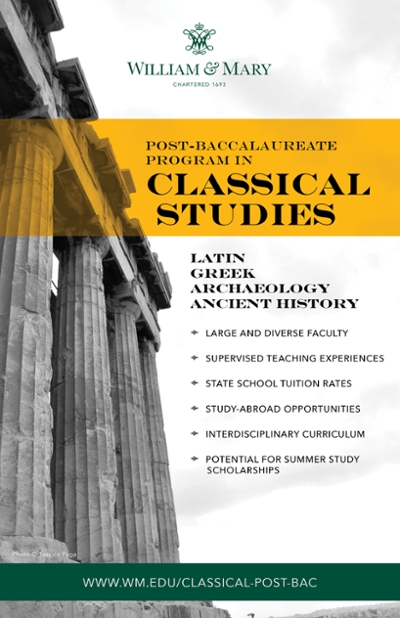 The Department of Classical Studies offers a Post-Baccalaureate Certificate program. This program features a flexible course of study for students who have an undergraduate degree and who wish to pursue an intensive program in the Classical languages as preparation for graduate studies, teaching, or personal enrichment.
Students in the program participate fully in our academic community, studying alongside our student majors and engaging in a rich and lively intellectual dialogue.  
Courses are offered in Latin, Greek, and classical civilization. Post-bacc students choose the level appropriate to their background and preparation. 
This program is especially designed for students who wish to:
pursue graduate study in Classical Studies but do not have enough Latin and Greek to be competitive in applying to Ph.D. programs.
teach Greek, Latin, or a related field in Classical Studies but have only a limited number of courses in Greek or Latin as an undergraduate student
study Latin or Greek (or both) for personal intellectual growth and satisfaction.
Please consult these additional web pages for more information about the program:
If you have further questions, please contact the Director of the Post-Baccalaureate Program, [[wehutt, Prof. William Hutton]].