Post-Baccalaureate Program in Classical Studies
Post Baccalaureate Program in Classical Studies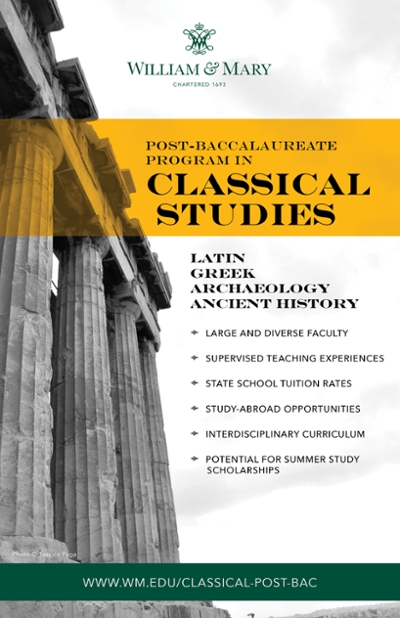 Course of Study
The Post-Baccalaureate Program offers a flexible course of study for students who have an undergraduate degree and who wish to pursue an intensive program in the Classical languages in preparation for graduate studies, teaching, or personal enrichment. Students in the program take specific courses in Latin, Greek, and classical civilization appropriate to their level of preparation. This program is especially designed for students who wish to:
pursue graduate study in Classical Studies but do not have enough Latin and Greek to be competitive in applying to Ph.D. programs.
teach Greek, Latin, or a related field in Classical Studies but have only a limited number of courses in Greek or Latin as an undergraduate student
study Latin or Greek (or both) for personal intellectual growth and satisfaction.
Requirements for the Certificate
The Post-Baccalaureate Program is designed to be as flexible as possible in order to allow students to take course that will suit their interests and needs. All entering post-baccalaureate students work with the post-baccalaureate advisor in the Department to design an appropriate course of study. Upon completion of the program, students will be awarded a post-baccalaureate certificate in Classical Studies. In order to earn the certificate each student must:
earn at least 13 credits in the program.
complete at least two semesters in the program.
enroll in at least one course each semester in Latin or Greek.
earn at least six credits at the advanced 300-level or above in either Latin or Greek.
earn at least six credits at the intermediate 200-level or above in the other language (whichever is not met for the previous requirement).
complete a one-credit proseminar that provides an introduction to research methods and resources in Classical Studies.
In addition to courses in Latin, Greek and the proseminar, post-baccalaureate students may also enroll in other classes offered by the Department in Hebrew and Classical Civilization. Please note that the Post-Baccalaureate Program is not a graduate program, nor does the successful completion of the program guarantee admission to any graduate program.
Admission
The Post-Baccalaureate Program has rolling admissions. The Department welcomes applications between Dec. 1 and April 15 for admission in the following fall. You will be notified of the department's decision about one month after we have received your application. Students who wish to apply to the program should submit the following materials:
A completed application [PDF] to the Post-Baccalaureate Program.
Official transcripts from all colleges or universities you have attended, with date of actual or expected degree(s) clearly indicated.
Two letters of recommendation from college or university instructors familiar with your work. Letters addressing your experience with Latin and/or ancient Greek would be most welcome. These letters should be sealed separately in envelopes with the signature of the recommender across the back seal.
A personal statement, not more than two double-spaced pages, explaining your prior experience with Greek and Latin and an explanation of how this program will meet your professional goals
Tuition and Fees
The cost of the program is $3,000 per semester for in-state students and $6,000 per semester for out-of-state students for six to eleven credits per semester. Since they do not pay fees, post-baccalaureate students do not have privileges, such as access to the Student Health Center. Post-baccalaureate students must also find their own housing within the community. Although the Department cannot assist in finding housing or part-time employment, helpful information about the local housing market can be found on the College's Off-Campus Housing webpage. There are no scholarships, fellowships or assistantships currently available for this program.
If you have further questions, please contact the Director of the Post-baccalaureate Program, [[mswetnam, Professor Swetnam-Burland]].