Shantá Hinton
Professor
Office: Integrated Science Center 2285
Phone: 757-221-2587
Email: [[sdhinton]]
Read more: {{https://sites.google.com/email.wm.edu/hintonlab}}

Recent News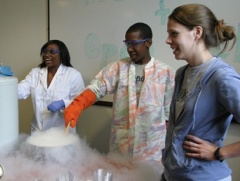 Over the summer Dr. Hinton directed Open Lab, a project to introduce students of all ages to the world of molecular biology. View the photo gallery.
Areas of Specialization
Cellular and molecular biology, protein tyrosine phosphorylation, pseudophosphatase  roles in signal transduction, protein:protein interactions
Background
Year of arrival: 2010
Previous Positions:
Assistant Professor: Department of Biological Sciences, Hampton University (2007-2010)

Postdoctoral Fellow: Cold Spring Harbor Laboratory (2002-2007)
Education
University of North Carolina at Chapel Hill, B.A.  (Biology) 1996

Howard University, Ph.D. (Biology) 2002
Research Areas
Protein phosphorylation signaling cascades are critical regulators of cellular responses such as growth, proliferation, differentiation, migration, and cell death. Kinases, enzymes that phosphorylate proteins, generally control the amplitude of a signal response, whereas phosphatases, enzymes that dephopshorylate proteins, are thought to be important for controlling the rate and duration of the response. Protein tyrosine kinases and protein tyrosine phosphatases coordinate to maintain a protein phospohorylation balance required for normal cell function. If this balance is disrupted, the outcome may be human diseases such as cancer, diabetes, inflammation, dementia and Alzhiemer's. The emergence of pseudokinases and pseudophosphatases has made phosphorylation cascades even more complicated.
My lab focuses on various functional characteristics of the pseudophosphatase map kinase serine/threonine binding protein (MK-STYX). MK-STYX is a novel protein included in the dual specificity mitogen-activated protein kinase phosphatase class that lacks the essential nucleophilic cysteine required for phosphatase activity. Recently, we showed that MK-STYX decreases stress granule formation and interacts with a RasGTPase SH3 binding domain protein that causes stress granule formation when dephosphorylated. We are elucidating the mechanism MK-STYX plays in decreasing stress granule formation, neuronal differentiation, and Ewing sarcoma cancer, and identifying other binding partners of MK-STYX.