Young students extract DNA during Open Lab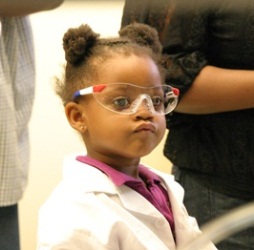 This summer Assistant Professor of Biology Shantá Hinton organized an outreach program entitled Open Lab that brought students of all ages into the world of DNA extraction. Young children and their parents were introduced to the world of biological science using fun yet advanced laboratory techniques.
The project aimed to help students realize that anyone can be a scientist if they understand the concepts, follow protocols, and bring their curiosity and creativity into the laboratory. Undergraduate students enjoyed the teaching experience, and the students enjoyed everything from the extraction process, viewing cells in the microscope, and of course eating ice-cream made on the spot using liquid nitrogen.
View the photos above to see Dr. Hinton's Open Lab in action.