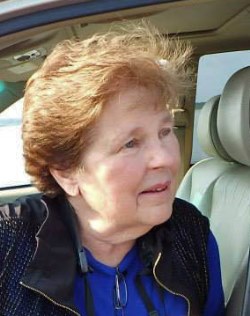 The birds have lost a great friend. It is spring and life is in the air. Eastern Bluebirds are fledging their first broods and wildly attacking any squirrel or snake that comes close, Brown Thrashers are franticly gathering insects from the driveway for their newly hatched chicks, and twittering hordes of Barn Swallows are scrambling to gather mud for their nests in every puddle. Sadly, though, Ruth Beck, Emeritus Professor of Biology at William & Mary, passed away suddenly last week at 72.

Ruth helped birds at many levels, starting with the superb bird feeders at the lakeside home which she shared with husband Sherwin. Her feeder spread was so alluring it drew in species rarely fond of birdseed, especially Rose-breasted Grosbeaks and Indigo Buntings. Ruth worked right up to the time of her death documenting and managing the nesting success of our dwindling colonial waterbirds, most notably the Least Terns of Craney Island and the huge tern and gull colony dependent on the rocks of the Hampton Roads bridge-tunnel.

These human-created habitats have become important refuges for birds being displaced from our Barrier Islands as rising sea levels slowly drown out their natural nesting colonies. The owners of these properties have reason to resent the descending hordes of waterbirds, which create transportation hazards and require workers to accommodate in all sorts of ways. But for decades Ruth has been able to graciously negotiate fair treatment for the birds, and to enlist an army of dedicated volunteers and students to manage their habitats. I have worked alongside retired school teachers, conscripted college students and members of a prison work detail to ensure that the picky Black Skimmers had the proper surface of weed-free, flat sand for their nests.

Ruth, who started at William & Mary in 1969, developed, taught and supervised biology laboratories for tens of thousands of college students. These were the first intensive lab experiences for freshmen, and were often formative. She inspired countless undergraduates to go on to take courses in ornithology and to pursue birds as a hobby or profession. Ruth also hired scores of students to assist in her summer research with tern and gull nesting colonies, and turned many apathetic field hands into aspiring scientists. To the end she carried out weekly surveys of Craney Island, one of Tidewater's most exciting birding destinations, with a crew of volunteer local birders. Like a reporter who gets to every crime scene first, Ruth's group broke the story on many local rarities, including last year's Snowy Owl, and many, many more.

Besides inspiring countless future scientists, birders and conservationists, and spearheading important local research and land management projects, Ruth was also a stalwart contributor to what is known as citizen science. Citizen science is the enlisting of non-professionals to gather data for scientific research, and for more than forty years Ruth and a crew of birders has been monitoring the bird populations of Williamsburg as part of the Audubon Christmas Bird Count. Never satisfied to stick to her own territory, the college campus and surrounding forests, I would often catch Ruth sneaking on to my adjacent territory to make sure that I was counting things accurately. I forgave her readily, because I never missed a chance to sneak on to campus to count the Rusty Blackbird flock, just in case Ruth had missed a few.

Ruth may be best remembered locally as one of the founders, longtime presidents, and benefactors of the Williamsburg Bird Club. My current fondness for the bird club is directly the result of Ruth having engaged me in various roles soon after I arrived on campus. At a time when I should have been focused solely on my duties at the College, I developed a lasting relationship with this thriving civic group. Under Ruth's direction, the club has for decades raised money to provide research grants to William & Mary graduate and undergraduate students undertaking bird research, as well as providing scholarships for kids to attend Nature Camp, purchasing books for the library, and sustaining educated interest in birds. The Williamsburg Bird Club, through Ruth's continuous generosity of spirit, has become one of the best examples of a sustained town-gown interaction that I know of anywhere. With generosity, humor and intelligence, Ruth Beck left the world a better place than she found it, and inspired many others to do the same. When generosity, humor and intelligence were not enough, she would turn to the most potent of her charms, extravagant spreads of food, always including strawberries. And like the Rose-breasted Grosbeaks and Indigo Buntings, people were drawn to Ruth Beck's strawberries. Those wishing to remember Ruth can send contributions to the Williamsburg Bird Club (mention the Ruth Beck Fund), P.O. Box 1085, Williamsburg, VA, 23187. Ruth, we miss you already.