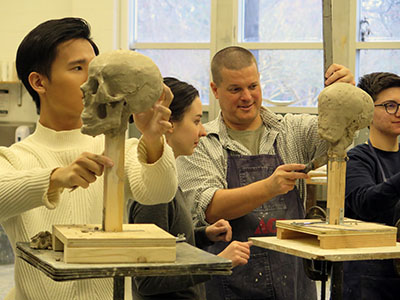 Our Studio Art program focuses on the visual art practices and techniques that cultivate a proficiency in the visual arts. As a Studio Art Major, you will learn to see the world from an artist's perspective, develop a deeper understanding of the creative process, as well as create and exhibit individual works of art.
To concentrate your major in Studio Art, you will choose to follow either a 2D (Two Dimensional)or 3D (Three Dimensional) track.
If you plan on majoring in Studio Art, we recommend that you take ART 211 (Drawing and Color) and/or ART 212 (Three-dimensional Design: Form and Space) in your first year at William & Mary. These courses are a prerequisite for 300-level Studio Art courses and fulfill the Creative and Performing Arts Proficiency. They are designed to serve both non-majors and majors alike.
ART 211: Drawing and Color is a prerequisite for Drawing, Painting, Photography, and Printmaking
ART 212: Form and Space is a prerequisite for Architecture, Ceramics, and Sculpture.
First-year students who have never experienced an art course are encouraged to sign up for a COLL 100 or any of our 200-level studio courses. You do not have to be a major to take most ART courses.