Thomasine Lewis: A life calling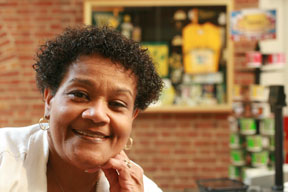 "This is my life," says Thomasine Lewis (a.k.a., "Ms. T" and "Tommy"), who will be honored for 45 years of service on June 26 at William & Mary's annual Employee Appreciation Day luncheon.
Lewis is a senior supervisor at the Marketplace in the Campus Center, where she oversees five other supervisors. She views her career at the College as her purpose, what she was meant to do: "taking care of my 4,500 babies."
Rising before dawn, Lewis prepares for her workday, which begins at 5:30 a.m. She supervises the Marketplace's setup for the daily breakfast rush, which starts around 7 a.m. Her duties are many – posting menus, making coffee, ensuring that the facility is ready for the students, faculty and staff who descend each day.
"I love it!" she exclaims.
According to Sharmyce Davis, Lewis' supervisor, "Thomasine's job encompasses much more than heading up the breakfast set-up in the Campus Center. The students love her. She is their motivator, teacher, counselor, and mentor. She is their mother."
Indeed, Lewis brings a nurturing spirit to her workday that is difficult to measure. She knows her students intimately and sometimes bestows upon them unique names – like "Brown Eyes," "Doodlebug," or "Curly Locks." She even has a name ("Boo") for a staff member who comes by every morning for a daily cappuccino.
"Vacations are rare for Thomasine," says Davis. "You can't get her to take off. In fact, she hasn't missed a day this past year!"
Lewis also makes it her business to know what her "babies" like and what they don't like. She takes care of their meal needs and also offers up a side of advice or compassion when necessary. She has helped a student who celebrated too enthusiastically the end of classes. She has provided the phone number of a dentist when one had a toothache. She even invited a student into her home during holidays when that student was not able to make the trip home to be with her own family.
The relationships she builds each day go beyond customer service, as evidenced by the number of former students who return to visit long after graduation.
"Sometimes they introduce me to their own children. That usually happens around Homecoming," she smiles.
Lewis' dedicated service has transcended many years and six college presidents. She was at the College even before Sam Sadler, who is retiring in a few weeks after 41 years. Thomasine is very fond of the longtime vice president for student affairs.
"There's only one Sam Sadler," said Lewis, adding Sadler makes her nervous when he comes into the Marketplace and, as a result, she always cheats him out of some change. It has become a running joke between them.
"I have known Thomasine since my own student days," said Sadler."Her dedication and loyalty - even through multiple food service companies - is truly amazing. What a great example she is of someone who deeply cares about William and Mary and who sincerely loves her work, especially with students. She is kind, thoughtful, genuinely cares about others, and has a wonderful sense of humor. It isn't the same at the Marketplace on the days when she's not there. As inspiring as her longevity is, it is her personality and character that make her such a compelling person. For all of the teasing we do with one another, I feel very fortunate to call her my friend."
Lewis lives in Denbigh with her husband, Fred, a retired shipyard employee who still works part-time on the Peninsula. In addition to her W&M babies, she is also the proud mother of three children (the youngest of whom is 33), four stepchildren and eight grandchildren aged 5 to 20.
Her eldest grandson is in the Air Force, stationed in England. He has invited his mother and his grandmother to visit him in England for a vacation. Lewis has her passport and hopes to visit him there "sometime soon."
The challenge will be convincing her to take a vacation.