Student, professor honored for service to the community
Two members of the William & Mary community were recognized for their commitment to service during yesterday's Opening Convocation ceremony in the Wren Yard.
Emily Lopynski '16 and Associate Professor of Psychology Catherine Forestell received the 2015 President's Awards for Service to the Community from W&M President Taylor Reveley.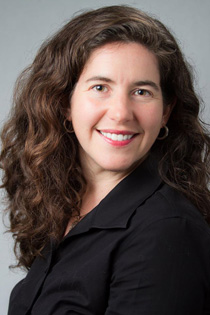 The awards are presented each year to one student and one faculty or staff member who have made "a significant and measurable impact on the community," according to the award description. Along with the award, each recipient received a $500 prize to donate to the service organization of her choosing.
Lopynski, a social justice and inequality studies major, was honored for her work in founding and leading Merrimac Mentors. The program gives W&M students the opportunity to mentor young people in local, juvenile detention centers. In addition to her work with Merrimac Mentors, Lopynski has served as the service and outreach coordinator for Intervarsity Christian Fellowship and a gardening volunteer and classroom assistant at Matthew Whaley Elementary School. She has also volunteered with her church, served on several Branch Out alternative break trips and participated in such W&M service events as SHOW (Students Helping Out Williamsburg) Day, the MLK Day of Service and the Spring Into Action Day of Service.
"I am honored to receive this award," said Lopynski. "William & Mary has taught me how to serve the community in a way that aims to leave everyone enriched and empowered. I'm humbled to be recognized by the people and the institution that have taught me so much. 
"I think this award is also a testament to the hard work of the Merrimac Mentors leadership team, the dedicated mentors, and the detention center education staff that have put great amounts of time and energy into developing the program. It's incredible to see that what started as a few William & Mary students volunteering in classrooms has become a full-scale mentoring program that serves the whole center."
Forestell was honored for her work serving women and children and need. Since 2012, she has served as co-principal investigator and a volunteer with the W&M Healthy Beginnings Project, which provides incarcerated, pregnant women with support and services ranging from prenatal vitamins to nutritional counseling. Forestell has also been involved in service-learning at W&M. In 2010, she led a course on service-learning in developmental psychology in which students volunteered at organizations including Williamsburg-James City County Schools. In 2012-2013, she served as faculty advisor to the Kenya Sustainable Village Project, helping with after-school programs for teens and children and assisting community members with their gardens. Most recently, Forestell became a member of the W&M Bike Alliance (formerly known as the W&M Bike Initiative), leading its research activities and acting as a liaison between the group and W&M Women's Network.
"I was delighted and humbled to receive this award from the College," said Forestell. "Over the past several years, I have enjoyed the opportunity to expand my energy beyond the university into the community. Not only has this work been personally rewarding, but it has allowed me to work with and learn from a wide range of people who have provided me with new ideas and perspectives that have challenged my views and values.
"I look forward to continuing this work and engaging in new opportunities that allow me to contribute my energy and service to the community."