Before plans progressed very far this season, we tried to find out what Hopewell's citizens expected from the city-sponsored public archaeology program. At city council meetings this spring, proposals for continued funding of the program drew overwhelming support from councilors, and most importantly from several citizens who took the floor. But we wanted Hopewell's residents to be more actively involved in shaping research priorities. On June 17, the public was invited to share their experiences of Hopewell's past at the "History Road Show." Tables were set up at the Hopewell Community Center gymnasium for history-related displays by individuals, Historic Hopewell Foundation, the Center for Archaeological Research, the William & Mary Anthropology Department's oral history project, and Petersburg National Battlefield. Exhibitors brought a wide variety of material—from World War I era postcards, to collections of colonial artifacts, and even dishware made by the Hopewell China Company. The exhibits generated lively informal conversations among citizens, William & Mary researchers, National Park Service staff, and city council members. These individual collections and the memories of local participants brought a fresh perspective to our understanding of Hopewell's history.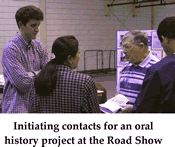 Following the "show and tell" segment, citizens, researchers, and city officials took turns presenting their hopes and priorities. A straw poll of the audience indicated interest in most periods of the city's history, from pre-colonial times through the industrial era. The highlight of this forum was a brief presentation by long-time resident and avid archaeologist/historian Steve Thomas. Over his years of delving into Hopewell's history Mr. Thomas had developed an impressive "wish list" of archaeological sites to be investigated more thoroughly, including the pre-1622 English settlement near City Point, colonial Broadway Landing and old City Church, and an old Prince George County courthouse site near the Five Forks section of town. Input from this forum helped fine-tune a long-term plan we presented to the City in the early summer.
Councilor Steve Taylor's call for a follow-up Road Show this fall met with a resounding "yes" from the audience. We hope even more citizens will show up to share artifacts, memories, and opinions—making this a truly public archaeology program. Perhaps, there are particular areas of Hopewell's history you find interesting. We especially welcome any information that might help in this season's research.