Spring 2018
"Fake News for Real People"
Presented by Dr. Elizabeth Losh, Associate Professor of English and American studies
Thursday, March 22nd, 7pm
Commonwealth Auditorium (Sadler Center)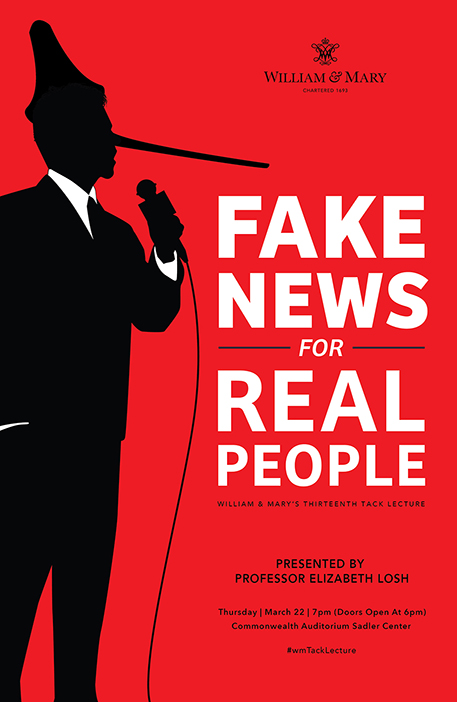 Fake news is often imagined as a problem for people on the fringe. When Edgar Maddison Welch fired shots in a Washington, D.C. pizza parlor in 2016 – because he had become convinced by Internet stories that the restaurant was the headquarters of a child slavery ring tied to the presidential campaign of Hillary Clinton – his behavior was justifiably described as "bizarre" by media outlets. Yet fake news stories are consumed and spread by ordinary people from all walks of life holding opinions that range across the political spectrum.  

Fake news can be designed to do much more than merely deceive. It also satirizes, challenges and undermines traditional journalism. The specific term "fake news" dates back to the 1940s, when post-war commentators expressed concerns about doctored images and government propaganda. Now it can include completely true stories that are no longer "news" because the reposted information is years out of date.

In the future fake news may deploy new digital technologies that use photorealistic 3D simulation, artificial intelligence, machine learning and predictive algorithms to subvert basic truth claims. Elizabeth Losh, associate professor of English and American studies, discussed ways to get beyond moral panics to promote civic participation, media literacy and sensible regulation during the Tack Faculty Lecture on March 22nd in the Commonwealth Auditorium.