"The Illusion of Control: Understanding and getting more out of your unconscious mind"
Presented by Peter Vishton, Associate Professor of Psychology

Wednesday, March 22, 7 p.m. in Theatre 1221 of the new ISC3 (Integrated Science Center).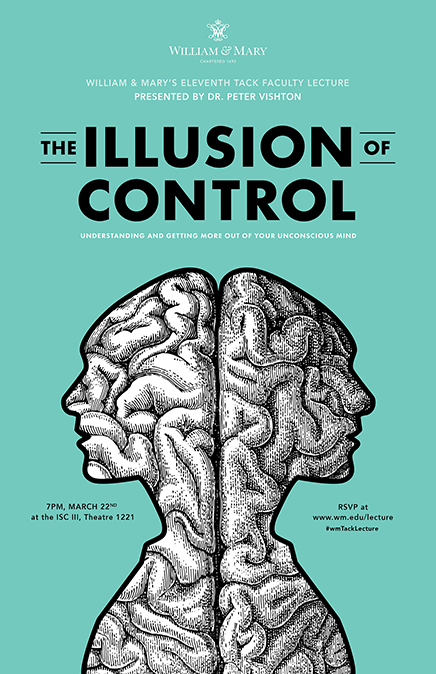 We are all psychologists. Based on our life experiences, we all develop personal, intuitive theories about how our minds function. However, a wealth of psychological research suggests that many of these strongly held intuitions are incorrect. Peter Vishton, associate professor of psychology, says most of our decisions occur before our conscious thought processes are engaged.
In most situations, we only become consciously aware of deciding to act after we have already begun the process of implementing the action. Our conscious explanations for why we have performed some action are often unrelated to what really caused it – our unconscious mind. The belief that our conscious thoughts and decisions precede and control all – or even most – of our behaviors is an illusion.
Vishton's lecture will explore the evidence for these claims and consider their implications. Knowing what our brain does (and does not do) can enable us to consciously outsmart our unconscious. He will also consider research that suggests that it's the body itself that controls the mind. Investigating the illusion of control can lead to an overall better understanding of our community and ourselves.