"It's a marvelous night for a Brain Dance! So grab on, and hold on…like MK-STYX"
Presented by Dr. Shantá D. Hinton, Associate Professor of Biology
Wednesday, October 4, 7 p.m.
Commonwealth Auditorium, Sadler Center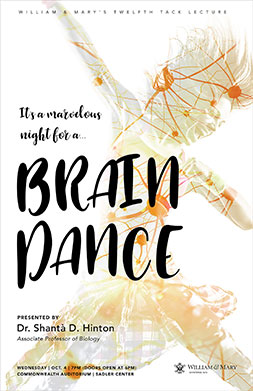 Shantá D. Hinton, associate professor of biology, has been studying a particular protein, one that goes by the name of MK-STYX, for the better part of a decade. She shared her insights into this fascinating — and even mysterious — protein in William & Mary's fall Tack Faculty Lecture titled "It's A Marvelous Night for a Brain Dance! So grab on, and hold on … like MK-STYX."

Attendees at "Brain Dance" gained an understanding of the role that basic research provides in the quest for cures and prevention of human disease. Hinton and the students in her lab have been working on MK-STYX, one of many proteins that biochemists and cellular-molecular biologists describe as workhorses of the cell. In the mysterious world of proteins, MK-STYX is especially strange and particularly mysterious.

"Brain Dance" was the 12th Tack Faculty Lecture, one in a yearlong series of events at the university to commemorate the 50th anniversary of William & Mary's first African-American residential students.