Student-developed app will help public remove derelict crab traps
'Crab Trap App' will empower students, engage citizens in pollution reduction
Kirk Havens of William & Mary's Virginia Institute of Marine Science says a question regularly asked by community clean-up groups is whether they can remove derelict crab traps from the Chesapeake Bay. Research shows these "pots" both harm marine life and cut into watermen profits.
To date, the answer has been no — in Virginia, it requires special permission to recover derelict traps, even if they are clearly abandoned or illegally present during the fishery off-season. Scientists estimate that baywide, tens of thousands of traps are lost or abandoned each year.
Now, funding from the National Fish and Wildlife Foundation, Covanta, and NOAA's Marine Debris Program will allow Havens and colleagues to address the derelict-trap issue by working with local high school students to develop a "Crab Trap App" for the cell phones of trained and authorized users. The project will also re-animate an earlier program that paid watermen to find and remove derelict traps from crabbing "hot spots."
"Having students, trained citizens, and conscientious watermen working together to address lost, abandoned, or discarded crab pots is a great way to help lessen the impact of these pots on the Chesapeake Bay," says Havens, assistant director of VIMS' Center for Coastal Resources Management. Joining him in planning and implementing the project are VIMS Asst. Professor Andrew Scheld; Research Associate Professor Donna Bilkovic, Kory Angstadt, Karen Duhring, Dave Stanhope, and Dave Weiss of CCRM; and Cara Simpson, a master's student at W&M's Raymond A. Mason School of Business.
An earlier, NOAA-funded study led by Bilkovic estimated that more than 145,000 derelict pots littered Bay waters in 2016: about 58,000 in Maryland and 87,000 in Virginia. In addition, scientists estimate loss rates of 12-20% for the several hundred thousand blue crab traps deployed in Bay waters each year. Loss is typically due to storms, propeller strikes, or abandonment.
A competition to STEM the tide of lost pots
Havens' team will encourage development of the Crab Trap App through a competition among Virginia high schools. A panel of experts will review the entries, and the top three will then showcase their apps during a final selection round at VIMS.
"We are challenging high school students to develop a smart phone app specifically designed to help citizens record the location, date, and status of derelict crab traps," says Havens. "It's a great opportunity to harness the students' technical capabilities, and provides a real-world outlet for the Commonwealth's computer science and technology programs."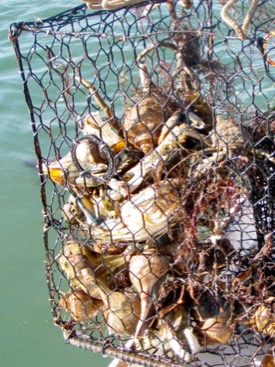 Status data might include a photo; the number of any trapped crabs or fish; a record of whether trapped animals are alive or dead and whether trapped crabs are male or female; the trap type (wire or plastic coated); and any ownership information such as a buoy number. In addition to brand-new creations, the judges will also consider modifications of existing open-source apps, such as the Marine Debris Tracker jointly developed by NOAA's Marine Debris Program and the University of Georgia. The winning app will allow users to upload their information to Google Maps or a similar platform, so that the public can view the success of the project in real-time.
In a letter to the National Fish and Wildlife Foundation supporting Havens' grant proposal, Virginia Education Secretary Atif Qami and Natural Resources Secretary Matthew Strickler wrote, "Engaging students in the real-world problem of derelict fishing gear through a STEM challenge is an excellent way to prepare them to think critically and design solutions that have real benefits for the Chesapeake Bay." STEM stands for Science, Technology, Engineering, and Mathematics.
Registration for the "Crab Trap App Challenge" is open until October 28th. Teams from 6 high schools have registered so far: Maggie Walker Governor's School in Richmond, Caroline High School in Milford, Walsingham Academy in Williamsburg, Heritage HS in Newport News, John Randolph Tucker HS in Henrico, and Magna Vista HS in Ridgeway.
Rebecca Thomchick, Upper School Counselor at Walsingham Academy, says the app competition "is a fantastic way for students to apply what they're learning in the classroom to a real-life scenario. Having the opportunity to solve a real-world problem is what makes learning come alive for students, and helps them to think of action that they can take to improve our world."
To use the Crab Trap App, interested members of the public will first be required to view an instructional video, then invited to register via a VIMS website for authorization granted through a field permit provided by the Virginia Marine Resources Commission. The permit will allow trained and registered app users to remove derelict traps from December through March when the crabbing season is closed.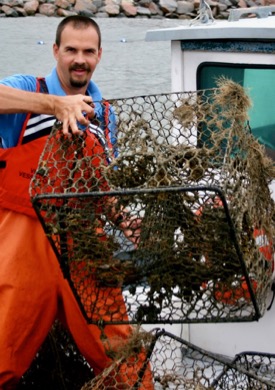 Havens views the project as a win on several fronts. "The app doesn't just facilitate a long-term removal effort by citizen-scientists in Virginia," he says, "but hopefully can be adopted by people in other states and for use in other trap fisheries." Recovered traps can be adapted for re-use if in satisfactory condition, or recycled as scrap metal.
Part of a nationwide effort
The grant to VIMS is one of ten projects funded nationwide through the Fishing for Energy program, a partnership between the National Fish and Wildlife Foundation, Covanta and NOAA's Marine Debris Program. 
The grants — totaling $1,157,788 — will support the removal and disposal of an estimated 330,000 pounds of derelict gear from the coastal waters of Virginia, California, Connecticut, Florida, Hawaii, Maine, Massachusetts, and Washington – including two National Marine Sanctuaries.
"Finding ways to reduce and remove derelict fishing gear from our oceans is important for a healthy marine habitat," says Jeff Trandahl, executive director and CEO of NFWF. "Once gear becomes lost in the environment, it can persist for years, continuing to harm marine species."
Nancy Wallace, director for NOAA's Marine Debris Program, adds "These projects will support the development of new technologies to reduce entanglement and speed the removal of derelict fishing gear to benefit coastal habitat, waterways, and wildlife."
Kenneth Armellino, Covanta's director of environmental science and community affairs, says "These grants help to further our mission of supporting the fishing community and protecting the marine environment. Since the program's launch, we have generated enough renewable energy from discarded fishing gear to power 44,000 homes for a full year at our Energy-from-Waste facilities. Covanta is proud to lend a hand to this important work."