You served our country; now let us serve you in helping you find your home at William & Mary. Whether you have attended college before and plan to apply as an undergraduate transfer student, have never attended college before and plan to apply as an undergraduate freshman, or already hold a bachelor's degree and want to apply for graduate study, we welcome applications from all veterans.
This website will help you navigate the application process and direct you to the various offices and individuals across campus and the community here to assist you.
If you need help determining your student status and how you should apply or have general questions about the application process, please contact

[[mpinier, Monica Pinier]]

, the Undergraduate Admission liaison for veterans.
For questions about VA Educational Benefits, contact Carolyn Ward in the Office of the University Registrar at 757-221-2893,

[[vabenefits]]

.
For questions about military tuition assistance, contact the Bursar/Student Accounts Office at 757-221-1220 or

[[bursar]]

.
If you have questions about the transferability of courses you completed before applying to William & Mary, please get in touch with the

[[transfercredit, Transfer Services Coordinator]] in the Office of the Registrar. For questions about credits and degree evaluations, contact the Office of the University Registrar at 757-221-2800 or [[registrar]]

. If you want to include your Joint Service Transcript with your application materials, request an official copy at the DoD Joint Service Transcript Portal. 
For any other questions, including discussing the transition from the military to higher education, contact Charlie Foster, director of the Office of Student Veteran Engagement.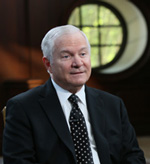 "My education at William & Mary was a formative experience in my own life, and I believe it continues to be for today's students, including those who have served, are serving, or plan to serve in the military. William & Mary's academic rigor, engaging community, and long-standing commitment to serving our country make it a wonderful place to build upon the leadership skills learned in the armed forces, and equips its graduates with the tools for lifelong success." 

Robert M. Gates '65, William & Mary Chancellor and Former U.S. Secretary of Defense
Scholarship and Admission Support Opportunities
This list includes scholarship opportunities outside William & Mary available to all veterans. To learn more information about each, please visit their websites. 
We look forward to working with you and assisting you through the process at William & Mary!