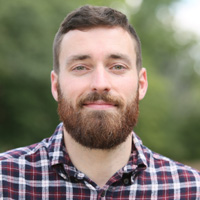 Charlie Foster
Director
Office: Sadler Center, Room 203-A
Phone: 757-221-2167
Email: [[ctfoster]]

About Charlie
Charlie Foster, U.S. Marine Corps veteran and William & Mary graduate, serves as William & Mary's director of the Office of Student Veteran Engagement. Foster most recently served as Veteran Liaison for the Troops to Teachers Virginia Center, while also serving as Co-chair for William & Mary's Military and Veteran Affairs Working Group.
Foster earned his Master's Degree in Higher Education Administration from William & Mary, focusing on student veterans' transition from the military into higher education. His master's thesis examined the history of military members stationed at William & Mary during World War II, as well as veterans who attended immediately after the war.
Foster enlisted in the U.S. Marine Corps after September 11th, 2001, serving as a Combat Correspondent. He went through the transition to higher education himself when he separated from the military and attended Berea College to study English.
As an advisor to students, Foster connects veterans with comprehensive campus resources, including help with applications, GI Bill benefits, transferability of courses and other support services, and assistance with internships and employment opportunities. Foster works with colleagues to identify and coordinate opportunities across all schools and programs, works to expand active-duty and reserve military and veteran enrollment, and seeks external support for those and other university veteran initiatives.